My Tassie Travels with Kids, Part I
I love arranging family holidays to Tassie. Why? Partly because it is quite simply the most heavenly place on earth for children (and let's face it, happy children = happy parents) and partly because Tassie gave my family the holiday of a lifetime. One that I never thought might be possible in our wildest dreams. Read all about it here.
It is late 2014 and I'm planning my annual trip to Tasmania to shore up my fast growing travel business, Tasmanian Odyssey. For the past 18 years I have always visited as a solo traveller, but suddenly it dawns on me that our two children, Emilie-Rose and Henry, will start their Easter holidays in early April, which is also a perfect time to visit Australia's southernmost island state.  One evening I pour my husband David a stiff drink over dinner and steel myself for the suggestion: "How do you fancy taking the family Down Under to Tassie?"
Another stiff drink or two later and flights are booked! And so, as sometimes happens, the stars collide, all the pieces fall into place and a dream comes true. 
Fast forward six months and after a marathon journey from Jersey via London, Singapore and Sydney we are making the bumpy descent into Hobart. Any worries about the flights turned out to be unnecessary as the kids (10 and 11) have thrown themselves into their adventure, buoyed by the prospect of a month off school and over 24 hours of non-stop screen-time.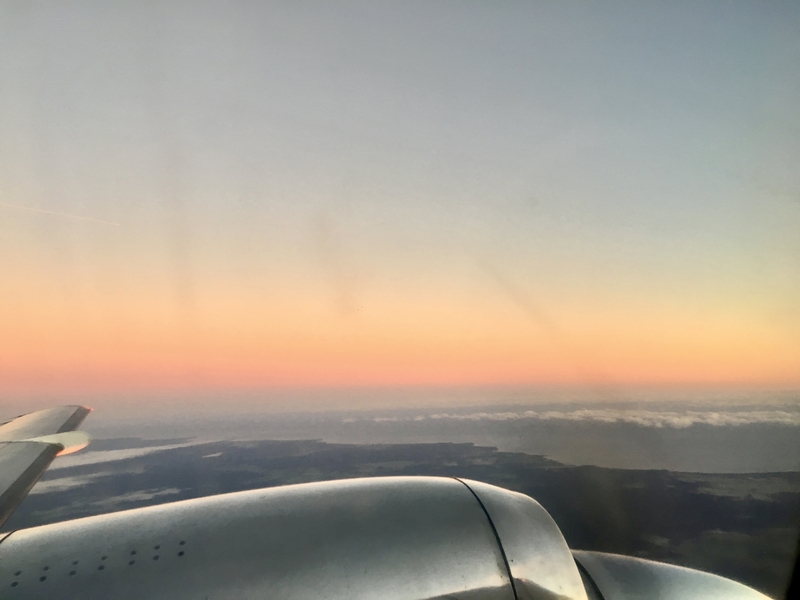 It is an autumn evening and dusk is approaching as we drive our rental car out of Hobart airport heading for Seven Mile Beach. We are escorted out by a mob of wallabies to yells of wild excitement. The stage is set and our Tasmanian Odyssey has begun in style.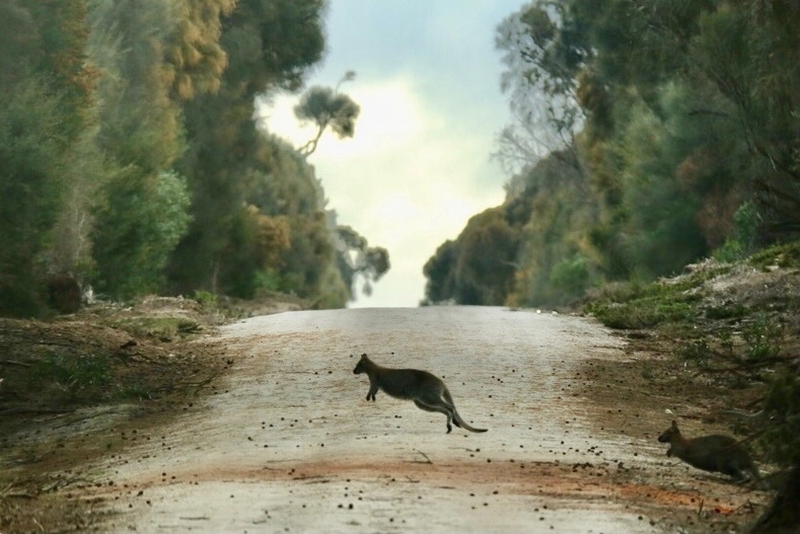 We sleep like the dead and wake to a bright sunny dawn. Although the day starts cool, the sun is strengthening. The forecast for the week ahead is promising. Autumn is often the most settled time of year in Tassie with warm days albeit cooler nights - and this year looks like being no exception. We head straight off to Bonorong Wildlife Sanctuary just outside Hobart for an early morning encounter with the Devil, and of course countless Kangaroos!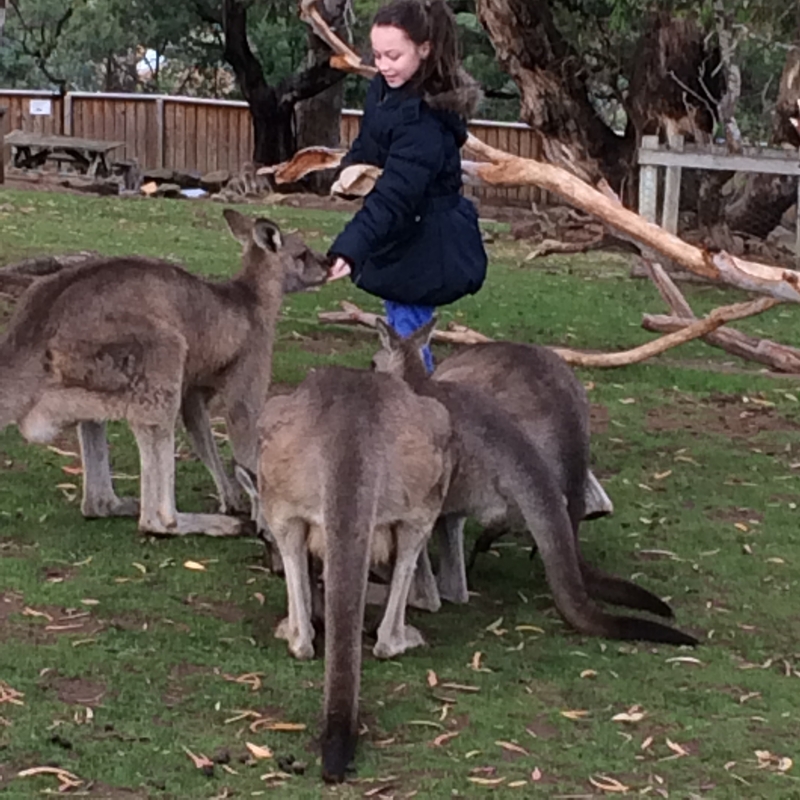 Greg Irons, Bonorong's inspirational owner and one of Tassie's leading lights in wildlife conservation, greets us cheerily and immediately sets about introducing the kids to his family of Roos, Tasmanian Devils, Wombats, Bennett's Wallabies, Tiger Snakes and his personal favourite - the Quoll. I revel in my children's uninhibited astonishment and sheer delight as Wanda the baby wombat clambers over them and kangaroos gather round for handfuls of 'roo food'.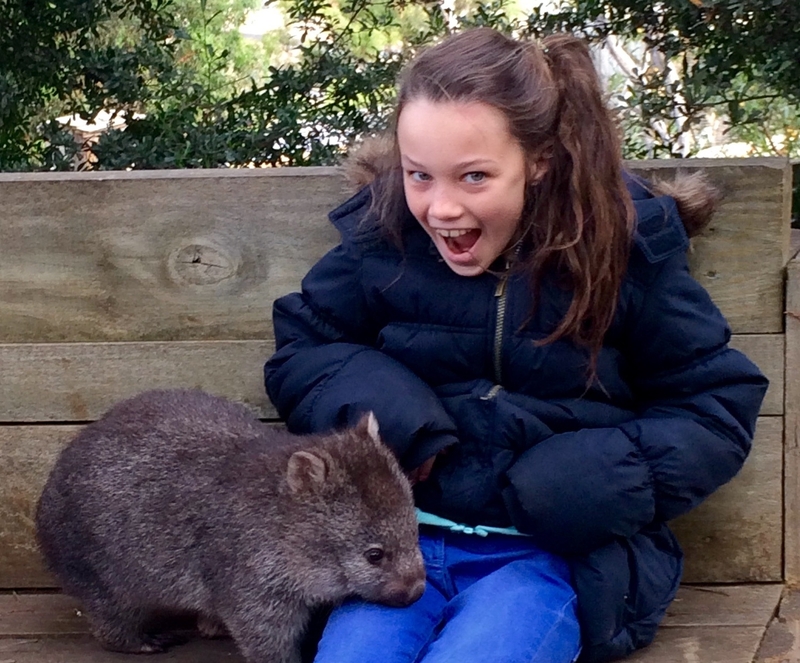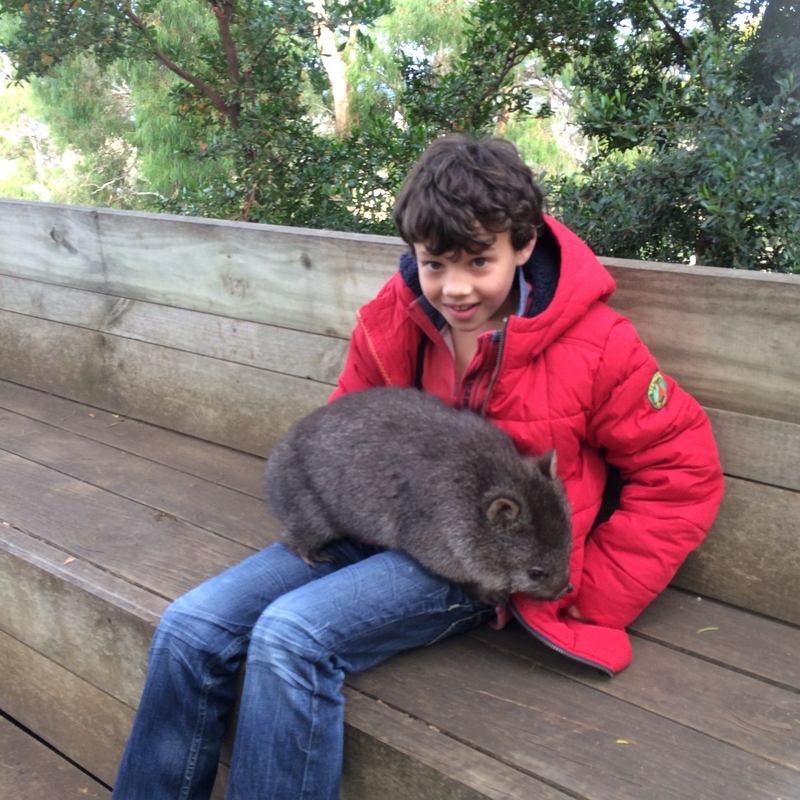 And of course we have our first face to face encounter with The Devil Itself!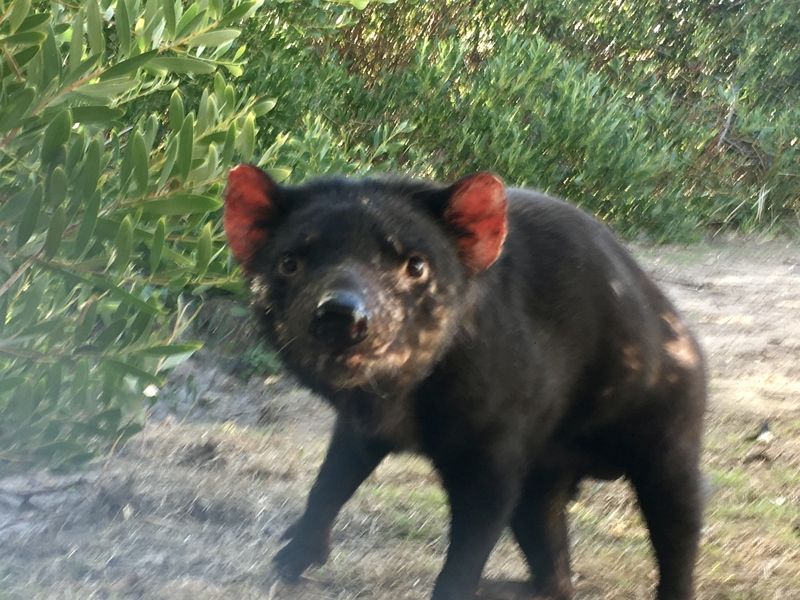 We drag ourselves away and head up the east coast via a pie stop at the Richmond Bakery – David and the kids tuck into flakey meat pies and I devour my favourite, a curried scallop pie - a Tasmanian speciality and my first of many over the next few weeks! 
The drive up Tasmania's east coast is never anything short of breath-taking and as always it takes much longer.  I keep shrieking at David to stop for yet another photo as we pass Maria Island, which we will visit in Part 2, and through Rocky Hills and Swansea.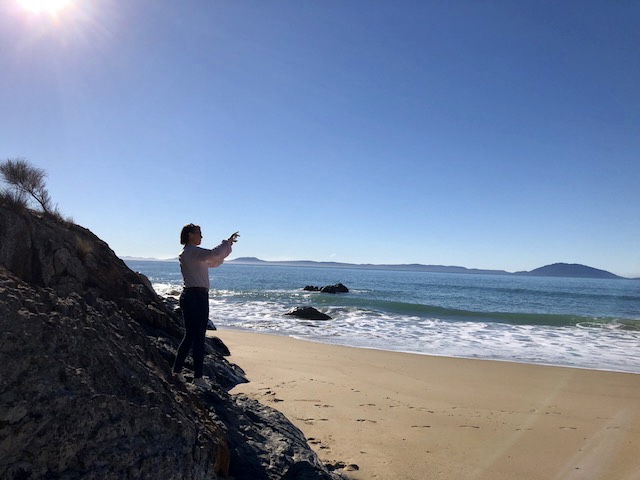 David, not known for superlatives, is blindsided by the views. He says he has never seen anywhere so beautiful in his life before. I feel an immense sense of pride - as well as relief and vindication for bringing my family as far away from home as it is possible to go, short of Antarctica.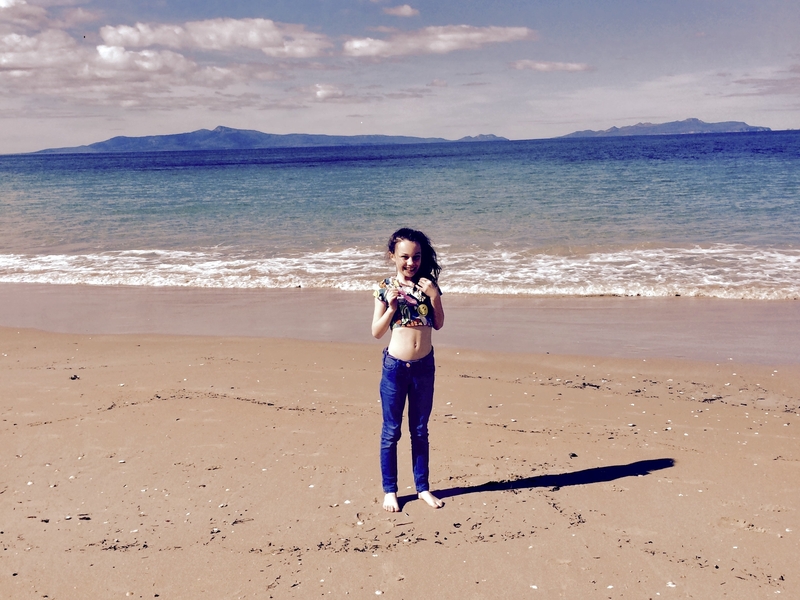 We stop for a delicious ice cream at Kate's Berry Farm and a quick beach walk in the historic town of Swansea. I point out the Hazards Mountain Range which rise up across the water on the Freycinet Peninsula, which will be our home for the next couple of nights - when we eventually get there!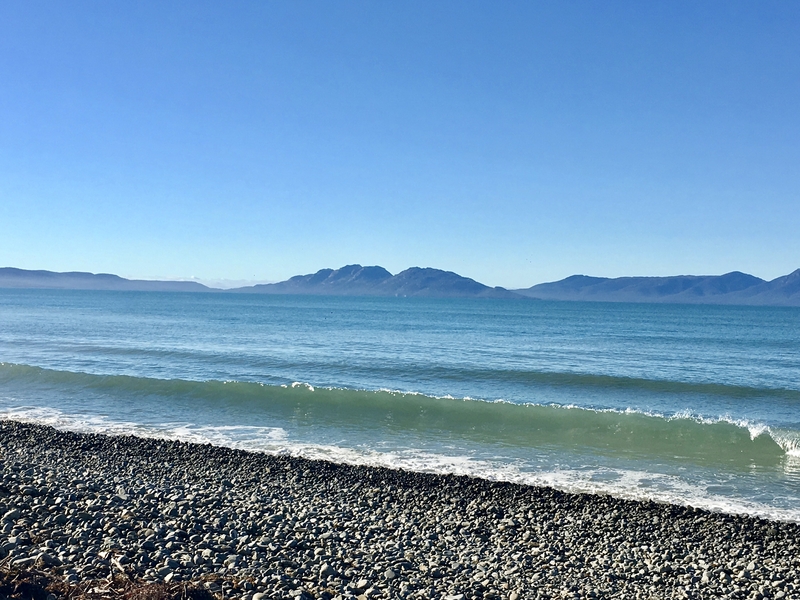 We are staying with my good friends Alan and Marg. We arrive in the late afternoon via a pit stop at one of the wineries to stock up on 'essentials'. We all toast our arrival and head off to a BBQ with locals high on Mt Paul as the sun sets over the mesmerising water views. There is nothing quite like a Tasmanian sunset! Kangaroos and wallabies abound while we knock back glass after glass of delicious Tasmanian wine.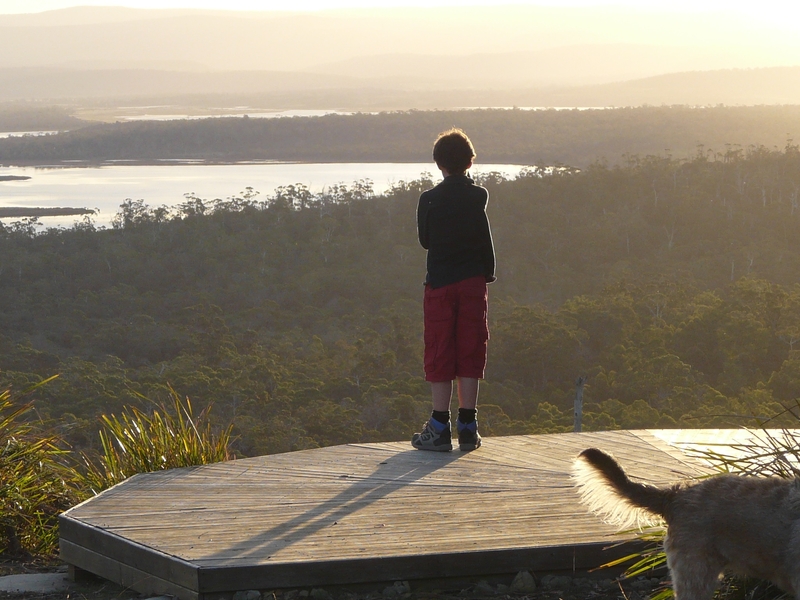 The next morning, we are up early and head to a locals' favourite spot, Richardson's Beach, to watch the sun rise over the Hazards.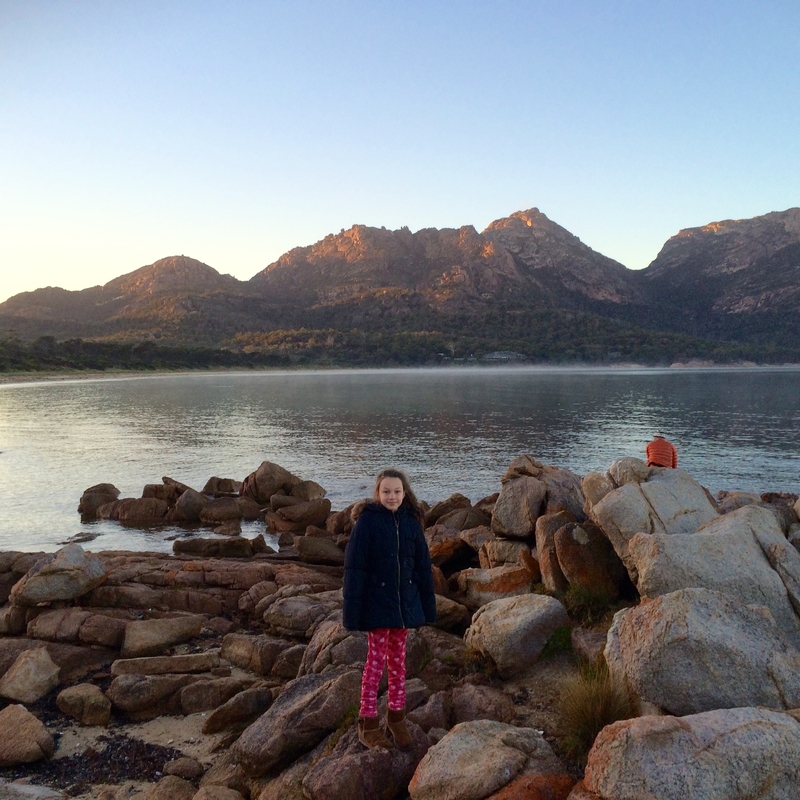 After a hearty breakfast we embark on the four hour Wineglass Bay Cruise - one of the only ways to explore the peninsula other than by foot.  It's warming up fast now so we strip down to shorts and t-shirts and slap on the sun cream.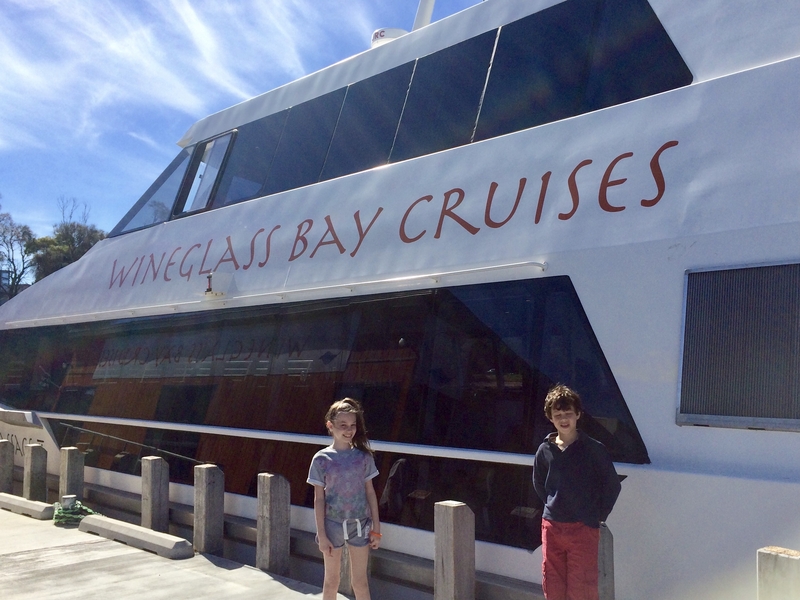 We are invited up to the Captain's deck and are blessed with a bird's eye view of mega pods of common and bottle-nosed dolphin as our Captain points out Sea Eagles and Albatross.  Lunch is served in the tranquil waters of Wineglass Bay washed down by local wine and beer.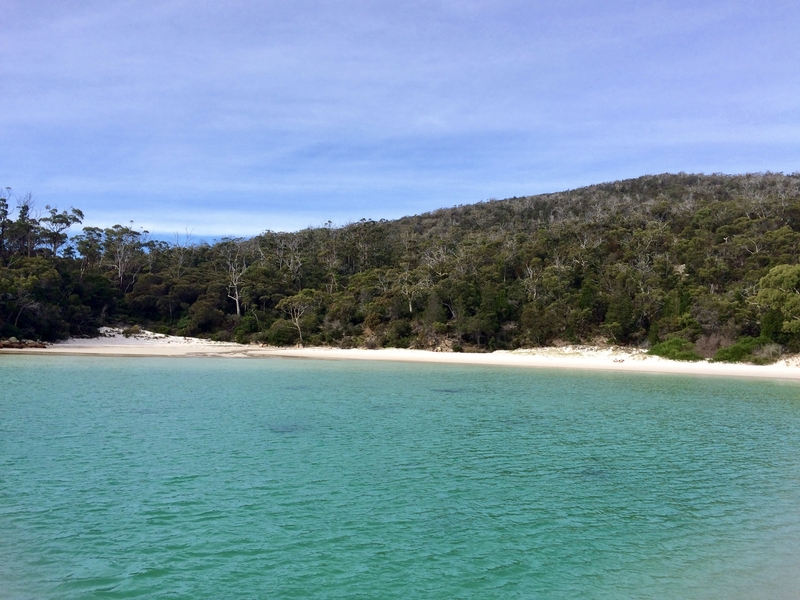 The sun is now shining warmly in a cloudless sky as the mercury hits 70 plus degrees.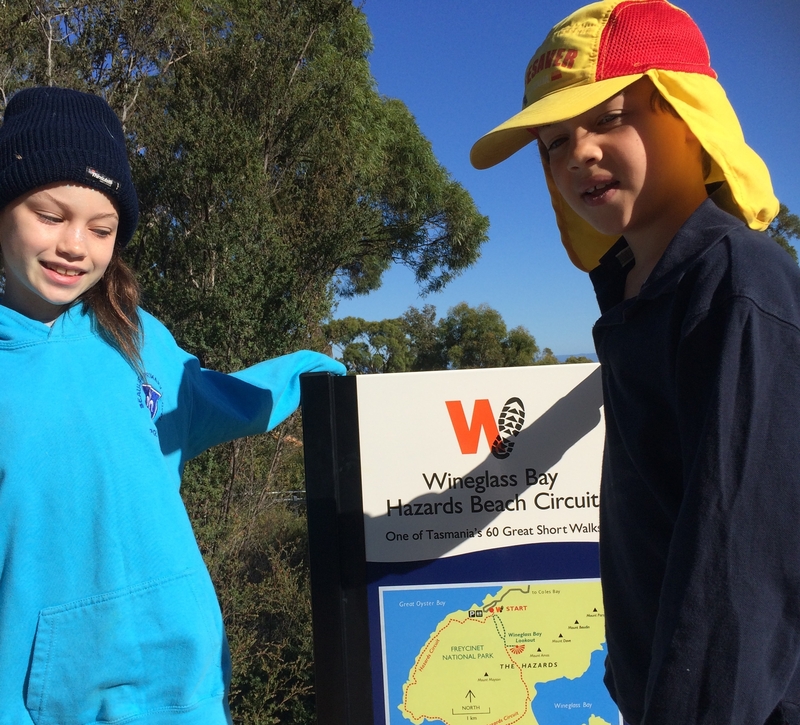 When the boat docks back at Coles Bay we decide to see Wineglass Bay from a different perspective and so make the three hour return bush walk to the Lookout, high in the Hazards Ranges.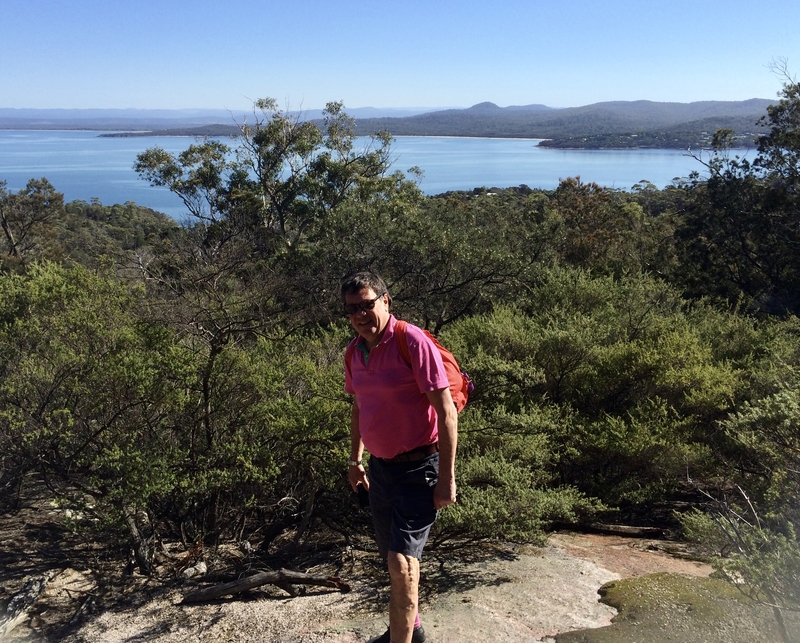 We don't have time to hike down to the Bay on this occasion but we are treated to yet another blinding sunset on our descent.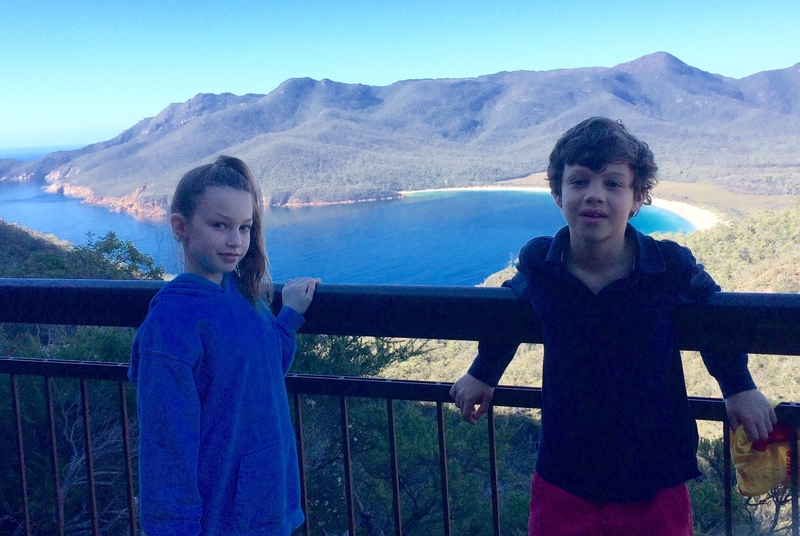 The next day we bid Alan and Marg farewell and continue our drive north. We are staying in a little B&B close to the famed Bay of Fires. In total contrast to our trip so far, the next day starts wet and windy, but we persevere with our planned beach walk at Cosy Corner - just one of the extraordinary beaches that line this extraordinary 35 mile stretch of coast. In true Tassie style, before we have made it halfway down the beach the clouds have scudded away and the sun is once again belting down. I am reminded of the Tassie saying "if you don't like the weather come back in five minutes!"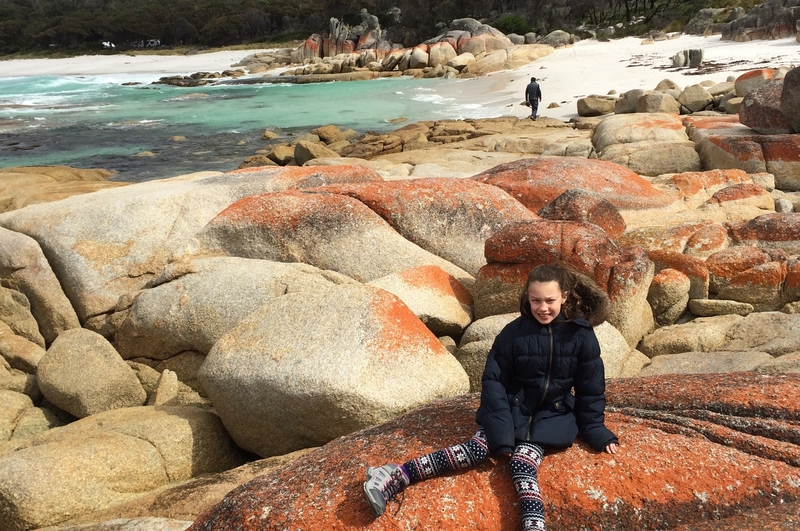 Our next drive takes us through the remote and beautiful north east corner, a winding and slow stretch of empty road. The landscape changes from vast forested valleys to giant, lush pastures and we come across a handful of tiny settlements – Pyengana, Derby and Weldborough.  The huge blue sky vies with mountain ranges that stretch ahead of us, as far as the eye can see.  We barely see another car for the entire trip.  We stop at the Pub in the Paddock to meet Pricilla the Pig (who apparently has a fondness for beer) and the atmospheric Weldborough Pub for lunch.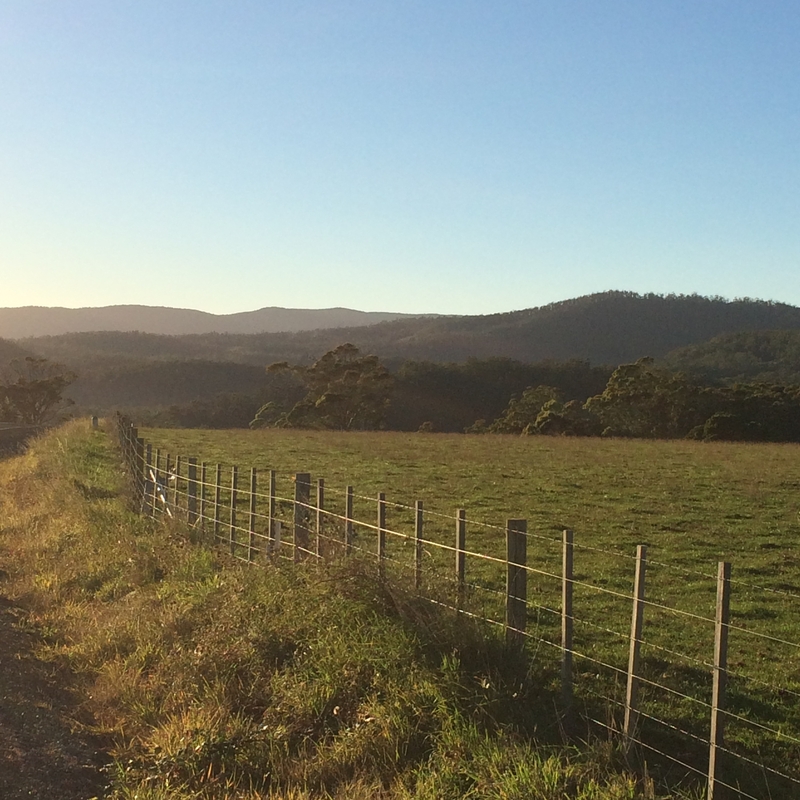 As we approach the little city of Launceston the excitement builds, for we are booked on the Hollybanks Treetops Adventure. Or at least the children and I are. This is billed as the world's longest unbroken zip wire over the forests of north east Tassie. David has declined to participate claiming a fear of heights and instead finds a shady tree under which to read (snooze).
Harnessed up and safety-checked we set off with our guide.  Sadly we can't take our phone or camera with us so you'll just have to take my word for what came next.  We ascend to the first Cloud Station, a platform high up in a massive tree, and prepare for take off. "Doors to manual and cross check", says our guide .... well, ok, not exactly, but ....WOWEEEEE...! Yikes! We launch ourselves off the platform some 50 metres off the ground and fly through the sky at the speed of light (or so it feels) with the forest canopy just a few metres below.  The kids scream with delight. 'Exhilarating' doesn't do this adrenalin-junkie's dream justice. Over one km of white knuckle ride and six zip lines later - each higher and more thrilling than the last - we complete the final stretch, a 350 metre mega-zip over a beautiful stretch of river. We de-harness, collect the obligatory photos, and walk on air back to Dad, who, book cast aside, is snoozing happily in the sunshine, oblivious to the terrific adventure he's missed out on.
It's early evening when our tired, happy and hungry foursome arrives at a little-known eco-hideaway about an hour's drive west of Launceston called Forest Walks Lodge, tucked way down a maze of unsealed roads. We are in for a treat. This pretty family friendly B&B, nestled between mountains and forests in the Great Western Tiers, is run by eco-warriors Sean and Rosemary, true stewards of the Forest.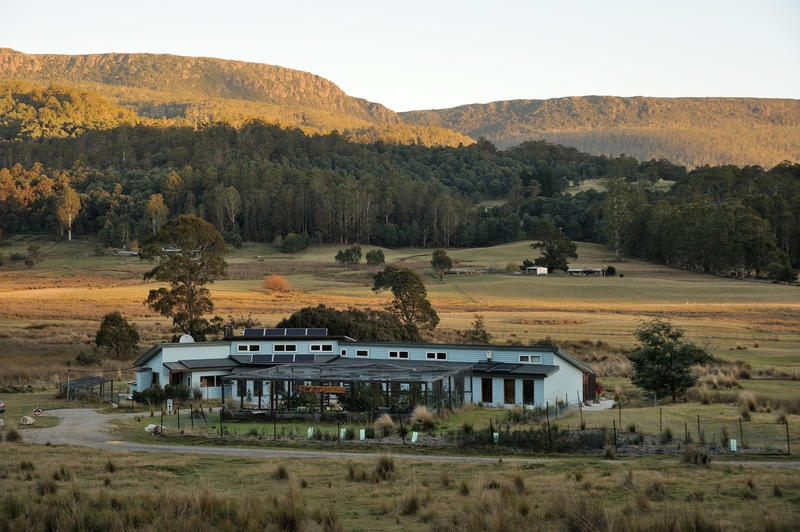 The kids play on the lawn as David and I enjoy a glass of wine in the evening sunshine, drinking in the stunning view across to Warner's Track as marsupials come out of the bush and colourful native birdlife - Scarlet Robins and Superb Fairy Wrens among them - fly down to adorn the fence posts.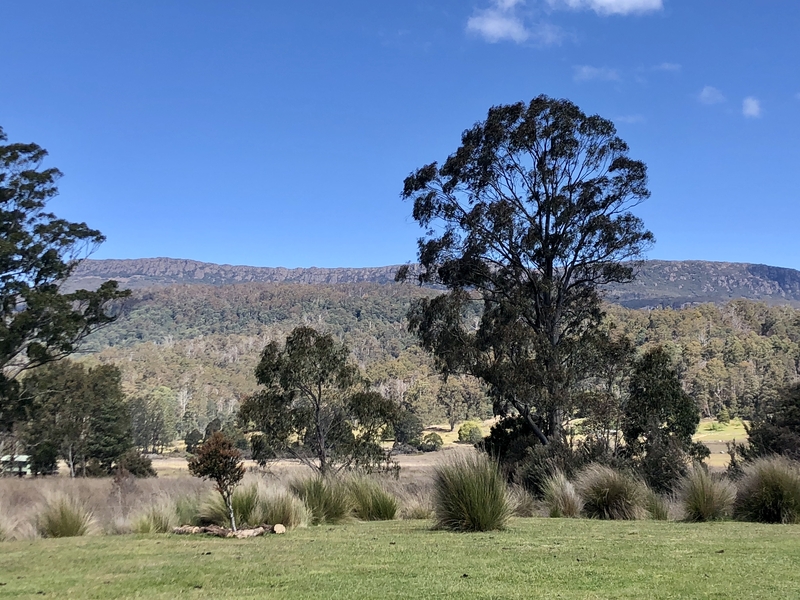 Rosemary and Sean, now dressed in his chef's whites, call us in for dinner. As the sun goes down we tuck into some of the best food of our trip, if not our lives, and mama possum wanders into the kitchen for her evening carrot treat.  Henry is in heaven - and so is the possum clearly - just check out that little face!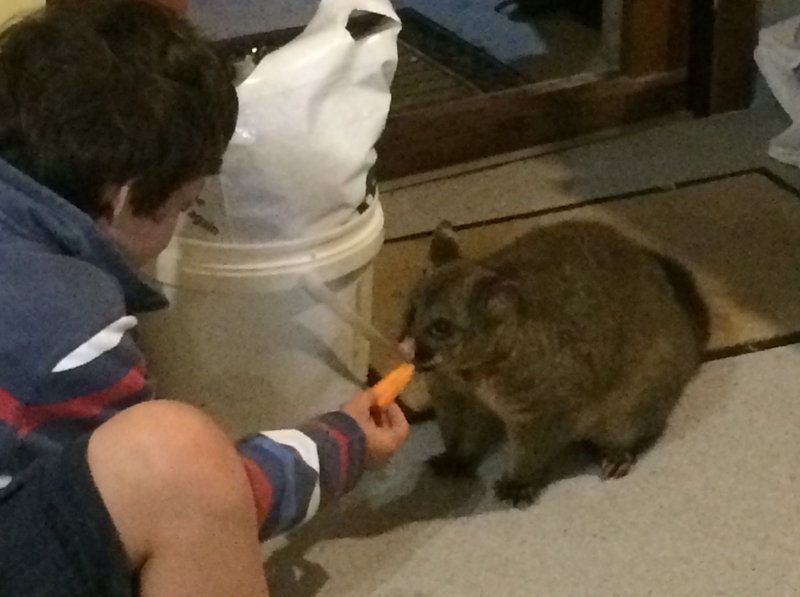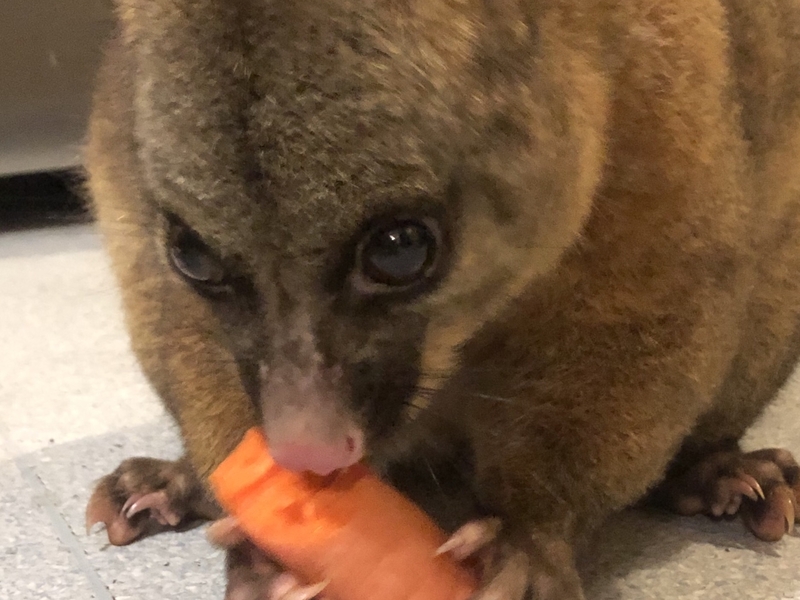 The next day, after a gourmet breakfast, Sean takes us for a guided walk through the ancient, huge rainforest that borders their land.  We are all dwarfed by the magnificent giants that tower above us, with girths of such magnitude that they defy belief. For many of my guests this highly personalised tour will become one of the greatest highlights of their Tasmanian Odyssey over the years.  We are truly privileged.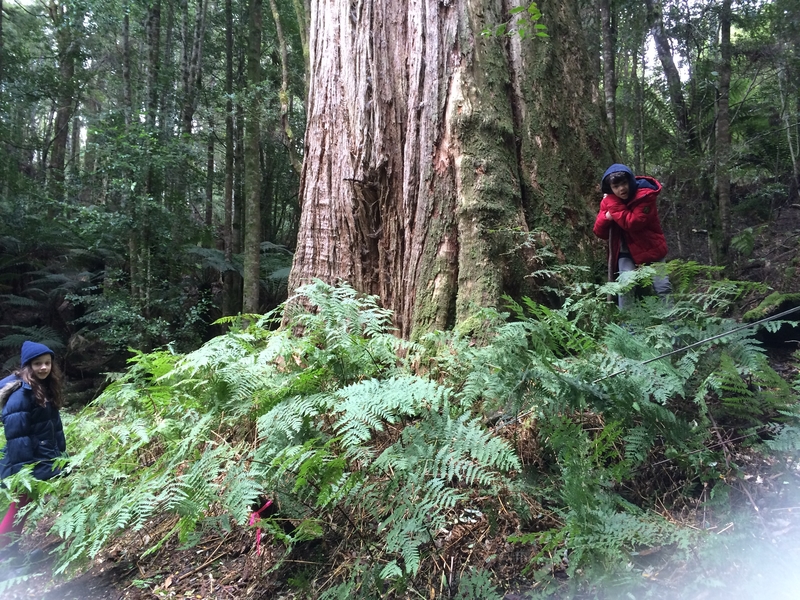 We arrive back in time for a quick lunch before setting off on our next drive - this time to Cradle Mountain, arguably the jewel in Tasmania's World Heritage crown. 
Read on in Part II for more of our amazing family adventures through Tasmania. 
About the Author: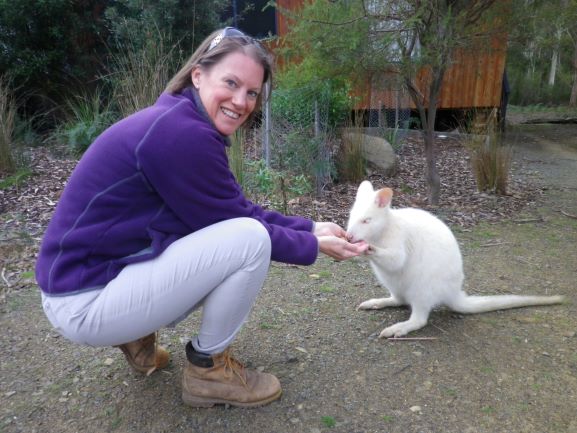 This blog was written by Susie de Carteret, owner of Tasmanian Odyssey, the world's only dedicated Tasmanian travel company.  We have over 22 years of in-depth knowledge and passion about Tasmania and we create life-changing self-drive and touring packages for our guests who come from all over the world.  For further information and ideas on arranging a family holiday of a lifetime in Tasmania, bookings and general advice or assistance, please contact Susie here