Good Morning Hobart!
Whether it was the jet lag that woke me at 4 am or the anticipation of my impending Tasmanian adventure I can't be sure. Whichever it was, watching the sun rise majestically over the mountain ranges on the horizon of what is arguably the Southern Hemisphere's most picturesque harbour more than made up for the dawn start.  I can only imagine what the handful of early risers crossing the Derwent River on the Tasman Bridge made of the wild-haired woman hanging over the balcony of her room at Lenna, the grande-dame of Hobart's waterfront hotels.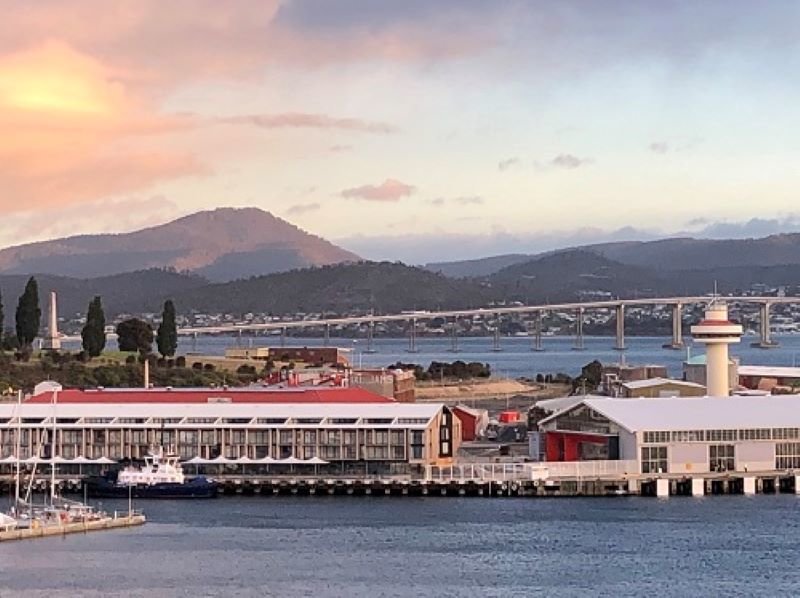 Dozens of photos later, I still had plenty of time to turn out my suitcase and reduce its contents to the impossibly small pile of items listed on the gear list I had been sent.
This morning I was fulfilling a long-held dream; I was venturing to Maria Island to embark on Australia's most acclaimed guided walk. Maria Island (inexplicably it is pronounced Mar-I-a) is one of Tasmania's most beautiful offshore islands - also a National Park and a Noah's Ark for endangered birds and animals. (Now you understand my excitement).  The Maria Island Walk is one of Tasmanian Odyssey's most highly rated multi day tours especially by birding and wildlife enthusiasts like me. 
Meeting my Fellow Walkers
After a hearty breakfast (this being absolutely not the time to watch my diet) I was picked up by my old friend Ian Johnstone, owner of the Maria Island Walk, and taken to their office to join my fellow walkers.
Introductions were made and I discreetly appraised the small group.  We were going to spend the next four days together with just two guides. Not much room for personality clashes! I was the only Brit – and the only solo traveller.  There were also five ladies from Canberra (longstanding friends) and two couples from the US.   Fortunately, we were all to get on like a house on fire.
Our two guides, Maya and Kate, were young, gorgeous, gregarious and mature beyond their years; the type of girls who make you want to relive your 20s all over again. Chatting away as if they had known us forever, they immediately put us at ease as they handed out tea and coffee along with rucksacks and liners, quality raincoats, cups and water bottles while dishing out lots of useful tips.
We proceeded to fill our rucksacks. We were told they should be no more than 8 kg when full.  On hearing that we would have access to a plentiful supply of quality toiletries, sunblock, repellent etc. I whittled my possessions down still further, making my rucksack an impressively light 6.5 kg. 
A couple of the other ladies were a little worried about leaving behind some of their clothing and other items they deemed 'essential'.  I smiled smugly to myself.  An old hand at Tassie travels, I had long since worked out that apart from hats, gloves, swimmers, sunnies and the requisite change of knickers and socks,  my scant selection of outer layers (t-shirts, fleece, shorts, cotton trousers and thermals/PJs) would easily last the pace until our return to civilisation. I slipped a lipstick in with my toothbrush (old habits die hard) but vanity is quickly forgotten once in the bush.  Dressing for comfort not glamour is definitely called for - even if my clothes would be capable of undertaking their very own four-day hike at the end of the adventure!
Oh Maria, here we come!
Our sunny drive from Hobart up to Triabunna on Tasmania's beautiful east coast took just over an hour during which time we slowly became acquainted with each other.
Before long we were gazing over the Mercury Passage to the two hundred million year old fossil cliffs of Maria Island, one of the 332 islands that are dotted around mainland Tasmania's 1760 miles of coastline.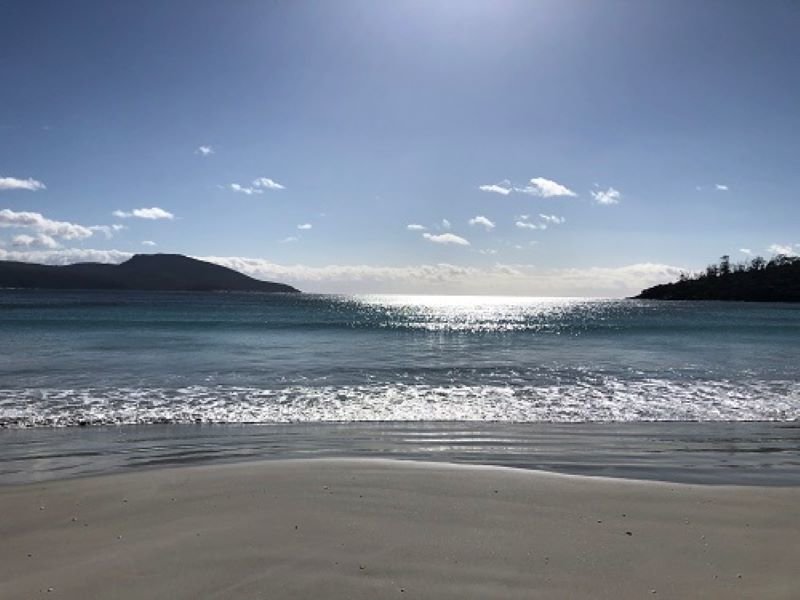 In 2012 the uninhabited Maria Island National Park became the focus of international interest when a handful of healthy Tasmanian devils were transported here to live and breed in quarantine in the face of a facial tumour disease threatening the species' very survival. I had been obsessed with these extraordinary creatures since being taken on a Tasmanian devil 'feed' deep in the remote north west of Tasmania in the 1990s by one of the state's foremost wildlife experts, so I had watched the BBC documentary and followed the devils' progress avidly.  Although I had been on Maria Island several times I had yet to see one of its most newest and largely nocturnal residents in situ, and I was crossing everything that I might see one on this trip.
A brisk westerly wind, unusual for early December, had whipped up the normally calm, protected waters of the Mercury Passage so our voyage to the island was particularly adventurous! Cruising out from Triabunna Marina, we soon hit the waves and spent a lively 45 minutes ducking the spray while the robust boat forged her way determinedly towards the island. So intent were we on staying dry that we barely had a chance to admire the blinding views north towards the Freycinet Peninsula. 
We anchored just a few metres shy of the shore, hopped off the boat and carefully carried our rucksacks and walking boots above the crystal-clear water. We gathered on a glorious stretch of perfect, squeaky white sand lapped by brilliant blue water.   I gazed around, drinking in the idyllic surroundings of Shoal Bay, littered by ancient aboriginal middens.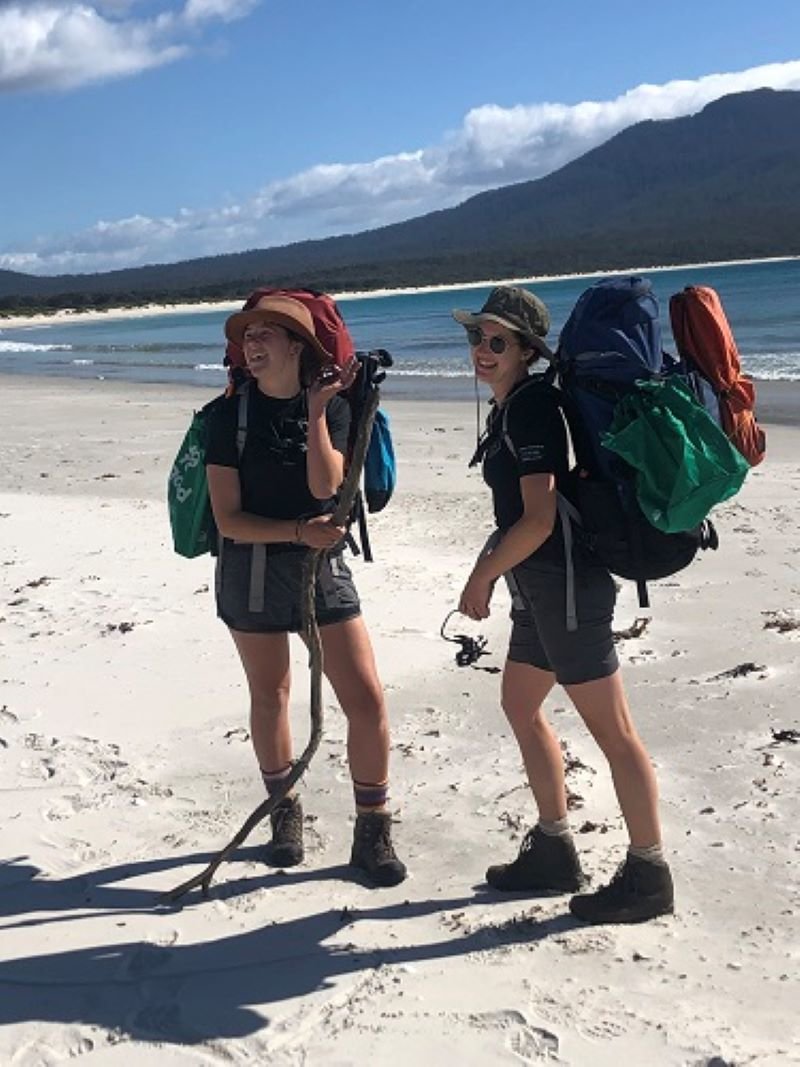 Once we had re-booted, Kate and Maya (above, both loaded to the gunnels) gave us a quick introduction to Maria Island's history before Kate led us down the deserted beach and through the bush of wattle and white gums as Maya kept up the rear. 
A few minutes later we emerged onto another perfect beach – this time entirely sheltered from the wind.  Our walk had begun!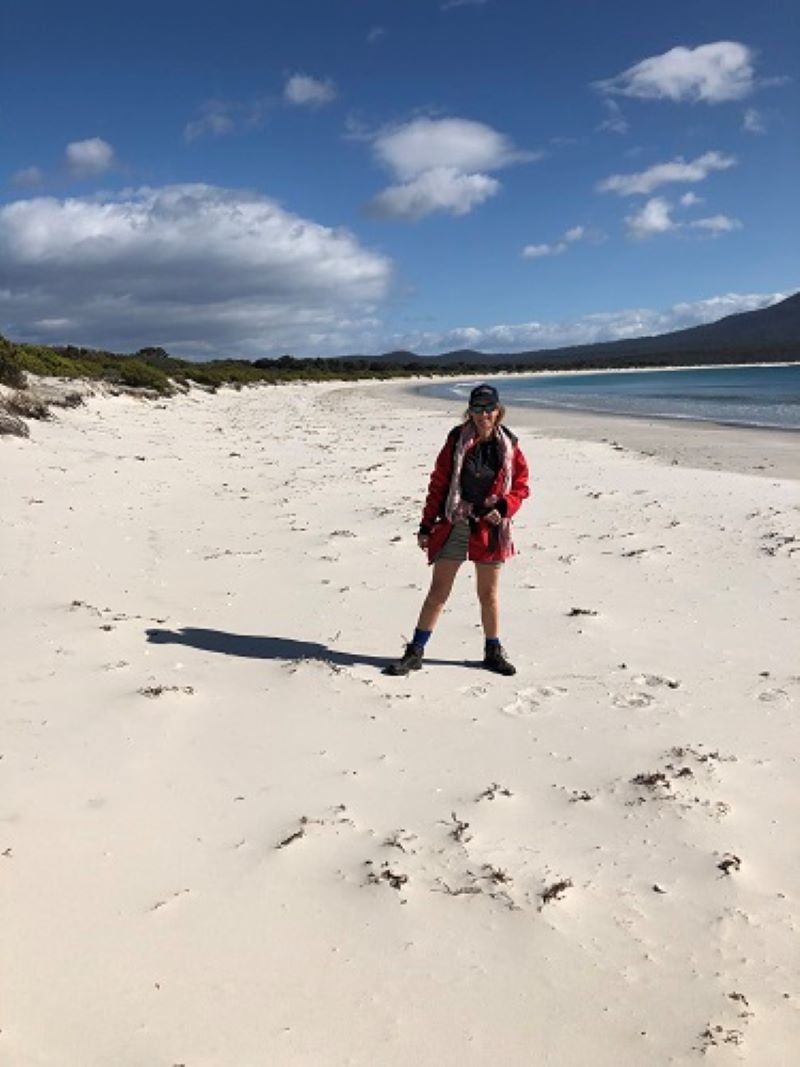 Our First Beach Camp
An easy hour's walk or so later we arrived at Casuarina Beach Camp – our base for tonight. I already felt as if I had been on Maria Island for days and thanks to our guides' enthralling and entertaining commentary my local knowledge was improving by the minute.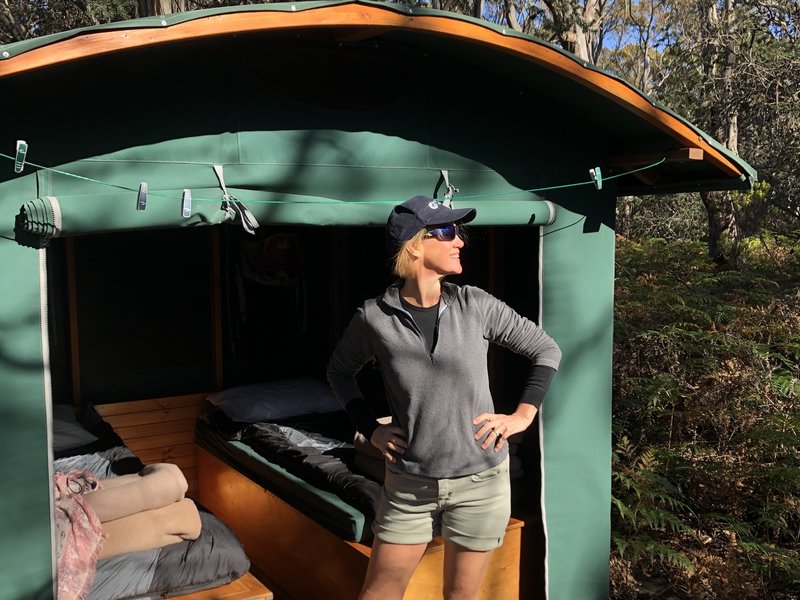 We were allocated tents (twin share, me with one of the other ladies) and Kate gave us a tour of the camp – blissfully protected from the elements - along with a demo on the strategically placed compost loos and bush showers. Both had been designed by the Maria Island Walk for maximum privacy – but talk about a loo with a view!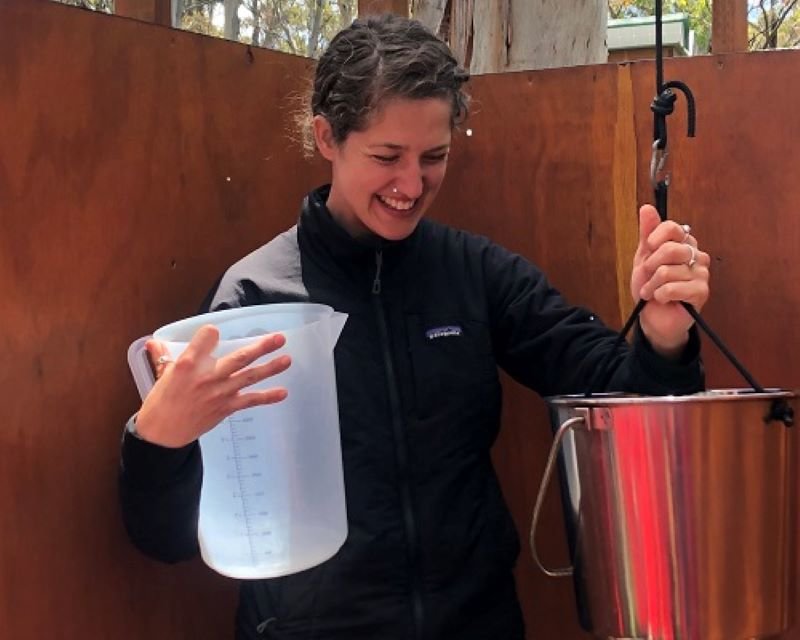 We soon congregated on the deck where Kate and Maya were serving tea and cake in the dappled afternoon sunshine. The afternoon was free for a two hour guided walk to Haunted Bay which we all opted to do.  This is a wild and remote spot edged by pink granite cliffs – simply stunning.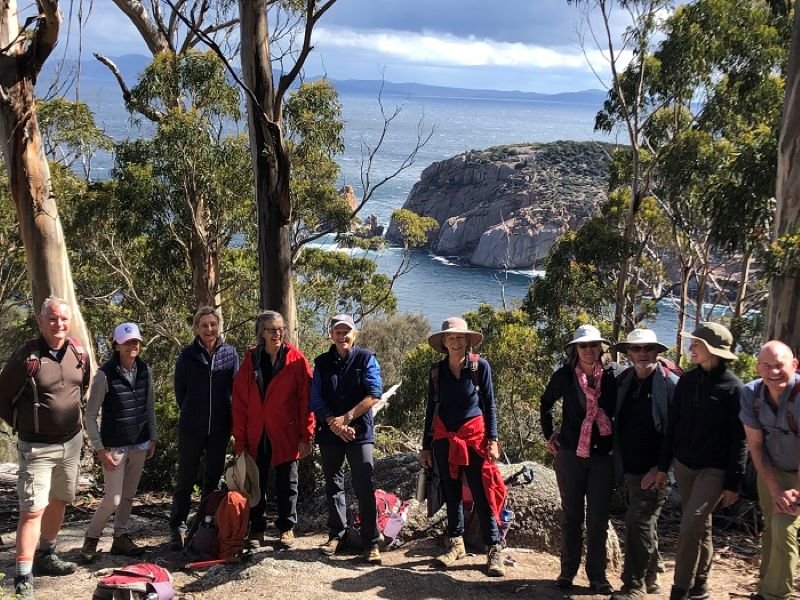 A highlight on the way home was the array of birds including a Kookaburra and the critically endangered Forty-spotted Pardalote, along with pretty Wallabies and inquisitive Forester Kangaroos which greeted our arrival back at camp!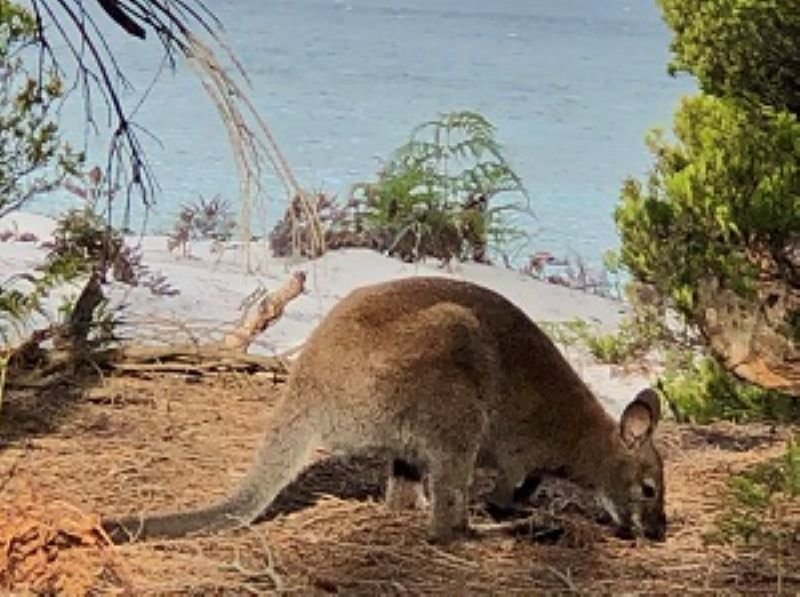 Kate and Maya had put out a tray of Tassie wine and beers.  Cocktail hour! We sat in the early evening sun enjoying crisp sauvignons and mellow pinots while the girls busied themselves preparing dinner in the camp kitchen (at this point it became clear that their skills knew no bounds).  And how!  What a spread they put on for us. We dined like royalty under candle light on Tasmanian scallop risotto, melt in the mouth lamb and chocolate fondants, all washed down with bottle after bottle of wine.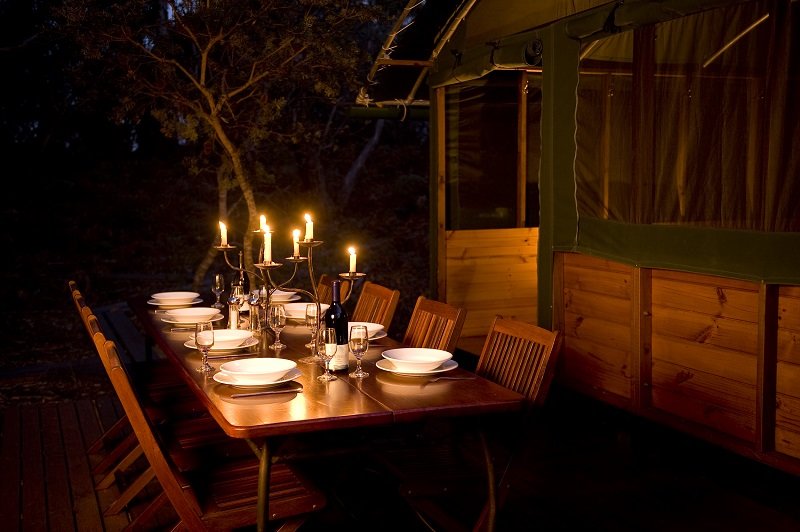 The excitement of the day had taken it out of us (and my dawn start had finally caught up with me) so we retired to our warm, cosy and incredibly comfortable tents at a reasonable hour and fell asleep to the hoot of the owl and the rustle of the marsupial-filled bush that surrounded us.
Morning dawned with brilliant sunshine, the chatter of the Wattle Birds and the call of the Kookaburra. Although not native to Tassie, I will never tire of its hysterical laughing call.
Emerging from our tents, it became apparent that dreamboats Kate and Mia had been busy preparing a vast spread for breakfast - yet another meal fit for a king's banquet - or in our case eight hungry walkers. Replete and eager for another day of exploration on Maria Island, we cleared up camp and prepared to gather on the beach in readiness. 
First however a couple of the ladies made use of the camp's yoga mats to limber up for the day ahead - and what a setting for it!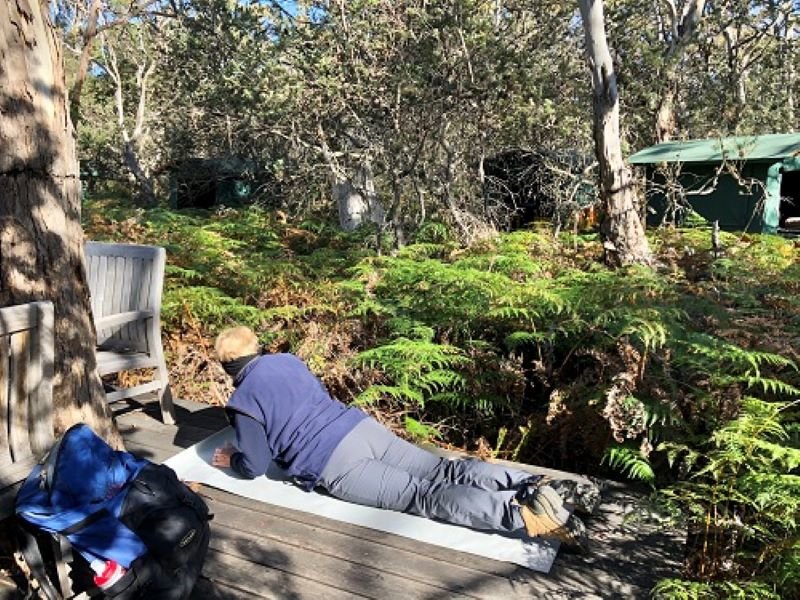 Welcome to The Wombat Capital of the World
Our eight mile walk today was to take us along five more glorious beaches. The wind was still keen, and at first I was grateful for the protection offered by my beanie and raincoat, but the sun grew stronger as the morning progressed and before long we were stripping down to shorts and t-shirts, and my beanie was replaced by a sunhat. Maria Island has its own micro-climate and is blessed with particularly mild and sunny weather even in winter months.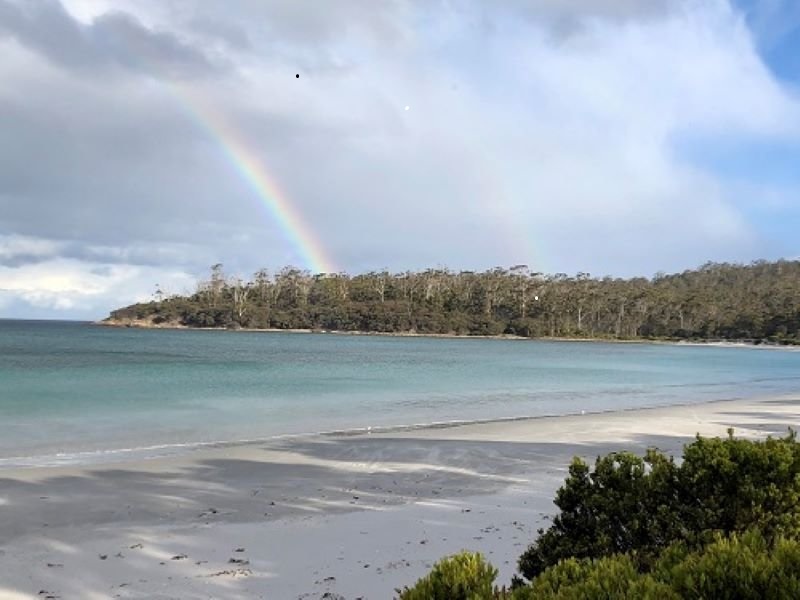 Kate and Maya continued their fascinating tales about Maria Island, with an imaginative mini history lesson on the beach using our footsteps to trace the island back in time to when Wukaluwikiwayna, as it was known, was inhabited by Aboriginal tribes.  The beaches were littered by the remains of their middens or seafood feasts.  We learned that it was renamed Maria Island in 1642 by Abel Tasman (after the wife of the governor of Batavia).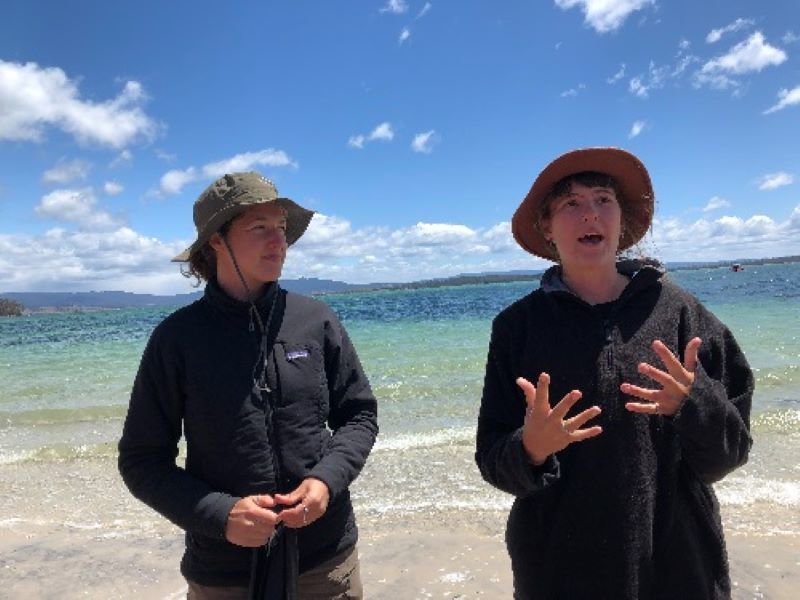 The island was to enjoy a rich French Explorer history, and of course many years later it was used as a penal settlement - although life was too good and escape was all too easy, so this was shut down by 1850. 
Although it wasn't declared a national park until 1971, Maria Island's significance as a wildlife reserve dates back to the 1960s when a number of rare and endangered species of bird and animal were introduced, and allowed to thrive. 
And oh boy, were we all in for a wildlife spectacular! Maria Island is known as the Wombat Capital of Australia and there is no better place to see them than the spot chosen by Kate for our morning tea and cake break. Our approach to French's Farm was greeted by a beauty of a beast who was completely oblivious to her admirers as she grazed nonchalantly at our feet in the sunshine. A few yards further we were astonished to look across at dozens of them. So many that I lost count!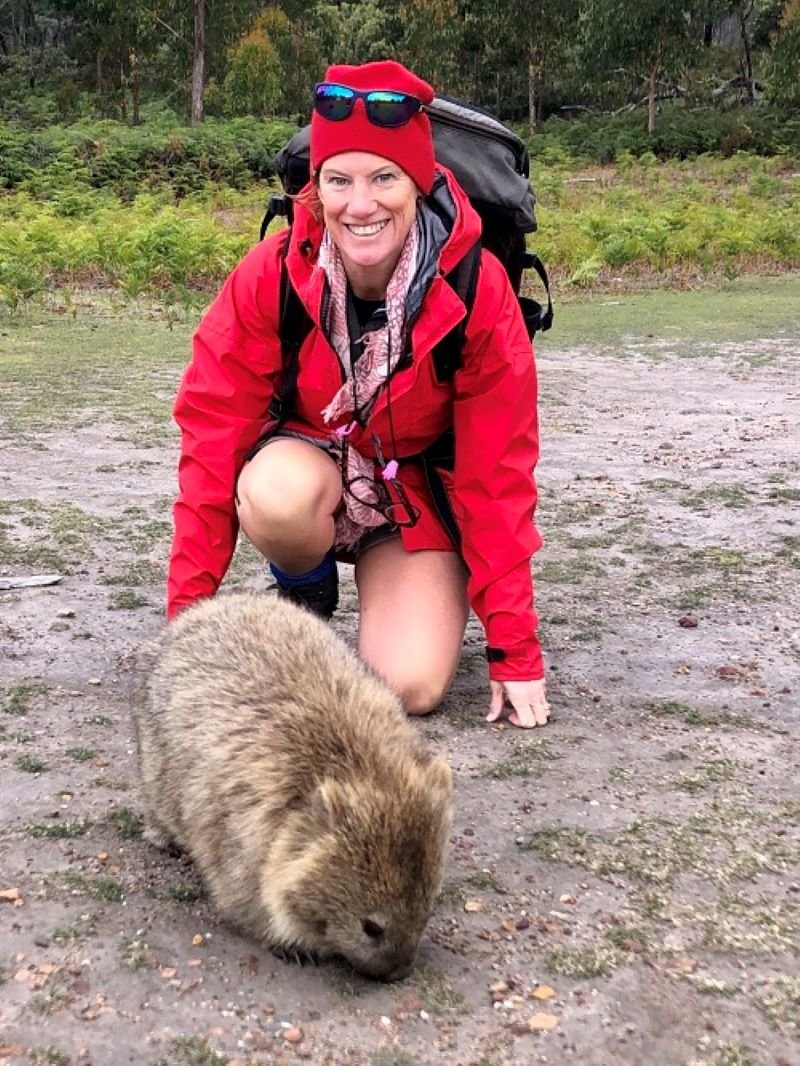 We continued from here to Point Lesueuer, possibly my favourite part of the island, where we walked past remote convict site remains with views over to the beaches, and across the Tasmanian mainland beyond that.  Every few seconds our journey was punctuated by yet another Wombat.  Here, they appeared to be noticeably lighter in colour – ranging from golden honey to almost blonde. We were truly in Wombat heaven.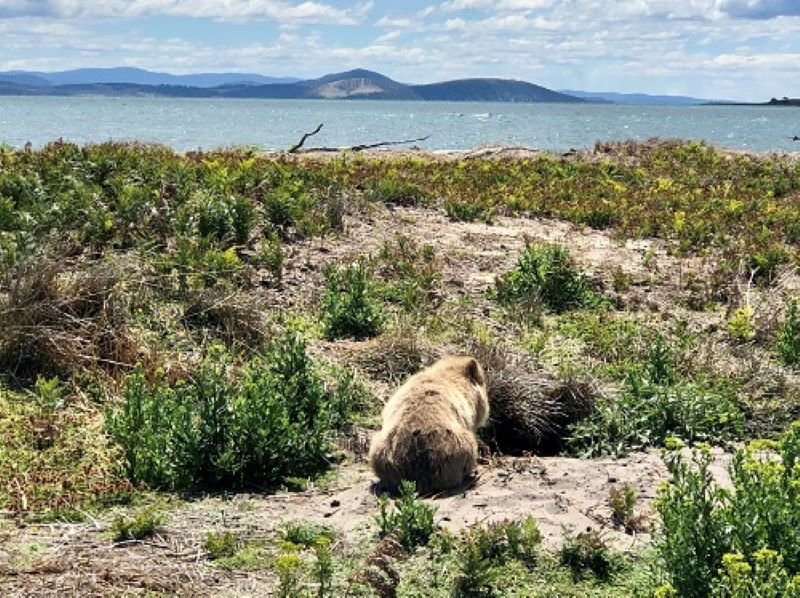 We picnicked in the shade of old convict cells, before heading towards our camp for the evening.  To our delight the Wombat population gave way to Forester Kangaroos, which leaped out in front of us and hopped away at great speed - far too fast to catch on camera - as we picked our way towards the beach.
Finally, tired but happy we arrived at White Gums Camp where we collapsed in the warm evening sunshine. Afternoon tea quickly became aperitifs as we took turns to avail ourselves of the camp shower. However not before Kate and I had raced down to the beautiful little beach for an invigorating dip in the crystal clear water.
Another gourmet feast was to follow – the girls had cooked up a delicious BBQ tonight with the most extraordinary selection of salads – and wine flowed freely.  It is truly no exaggeration to say that every night was akin to a gourmet dinner party. 
After an uproarious evening and uplifted by our exhilarating day, we headed down to the beach to watch the sun set before turning in for the night.
I woke before dawn and waited for the first crack of light to appear before quietly making my way barefoot, still in my PJs, down to the beach again, where the local population of wallabies was out in force and the birds – all 12 endemics can be found on Maria Island - were welcoming in the day with their noisy chorus.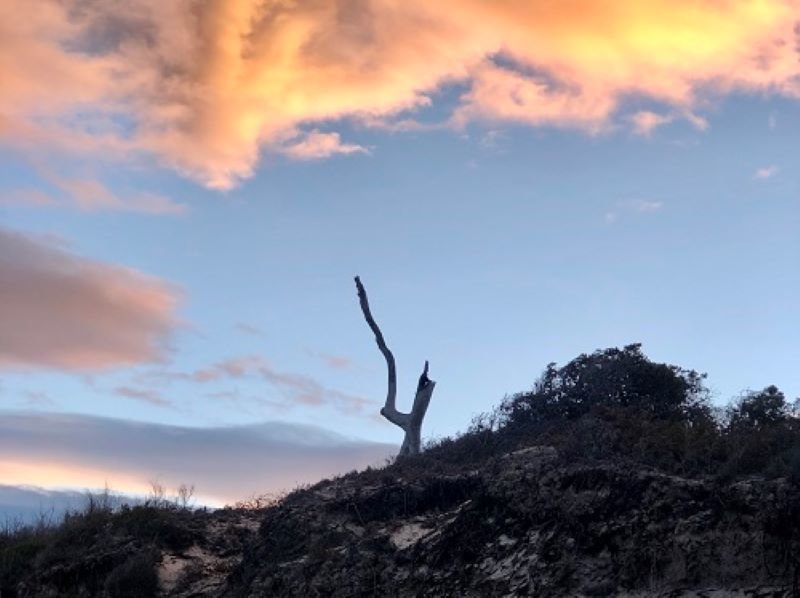 Conquering the Summit of Bishop & Clerk
Today's walk was an easy two hour stroll to Darlington, the World Heritage listed Penal Settlement, where we were going to spend our final night. This is where the day trippers arrive by ferry from Tasmania's mainland, even though there are no shops or accommodation on the island.  It seemed strange and was not altogether a welcome sight to see other people as we made our final approach! 
We were staying in Bernacchi House, a charming heritage cottage once occupied in the early 20th century by Count Diego Bernacchi who twice tried to turn Maria Island into a commercial venture – and twice failed!  By all accounts he was a kind, generous man and I felt sorry for him. The Maria Island Walk leases the charming little house for its guests' exclusive use and every creature comfort has been thought of for the last night of this wonderful adventure.
We were all thrilled by the antics of the Cape Barren Geese which are a permanent fixture all around Darlington. Once this was one of the rarest birds in the world, but it has thrived on Maria Island.  They are as noisy as they are pretty, and completely unfussed by humans.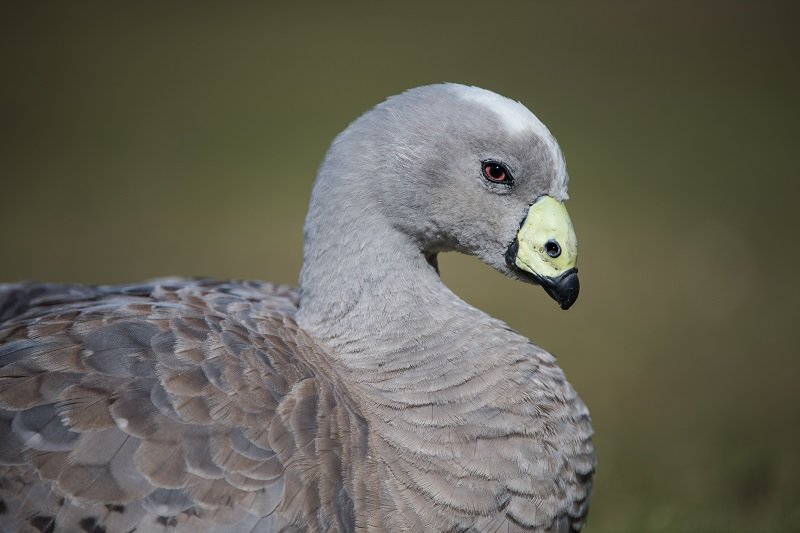 Although this afternoon's 12 km walk was entirely optional - the other option being to chill out in the sunshine - we all threw our hats into the ring so after lunch, off to Mount Bishop & Clerk we headed. This is the second highest summit on Maria Island, at 620 m, the other being Mount Maria at 711 m.  I knew from a previous trip that the views on this particular bush walk are nothing short of eye-popping all the way, even though I had never made it to the summit, so I needed no encouragement. 
Along the way I achieved one of my longed-for goals – photographing a baby Wombat peeping out of its mother's pouch – and shortly afterwards we came across an Echidna burrowing for ants on the steep, narrow path.   A few of the group turned back at this point to return home under Maya's watchful eye, while the rest of us girded our loins for the final haul.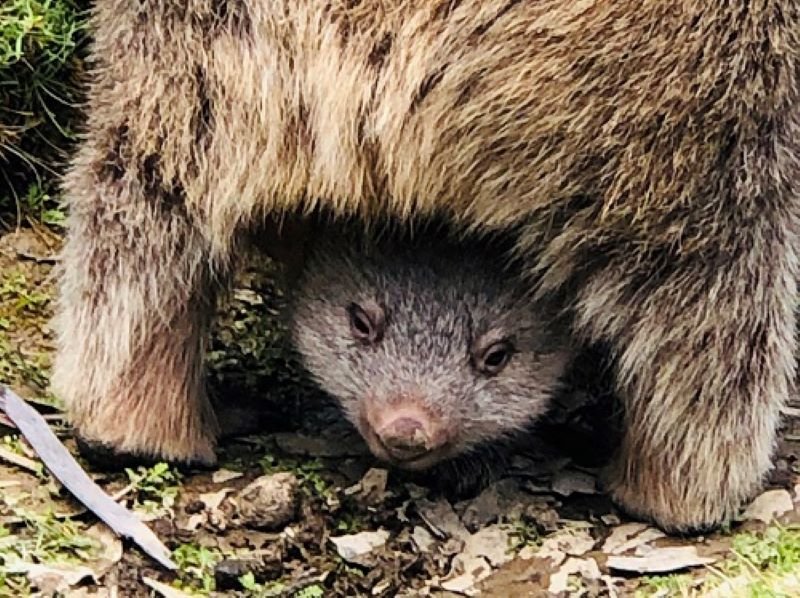 The last scramble to the very top of Bishop & Clerk is indeed a challenge, not least of all because of the gusty winds that accompanied us for our final descent to the dolerite summit, but ably led and encouraged every step of the way by the fearless Kate, we made it to the very top - and the view was stupendous!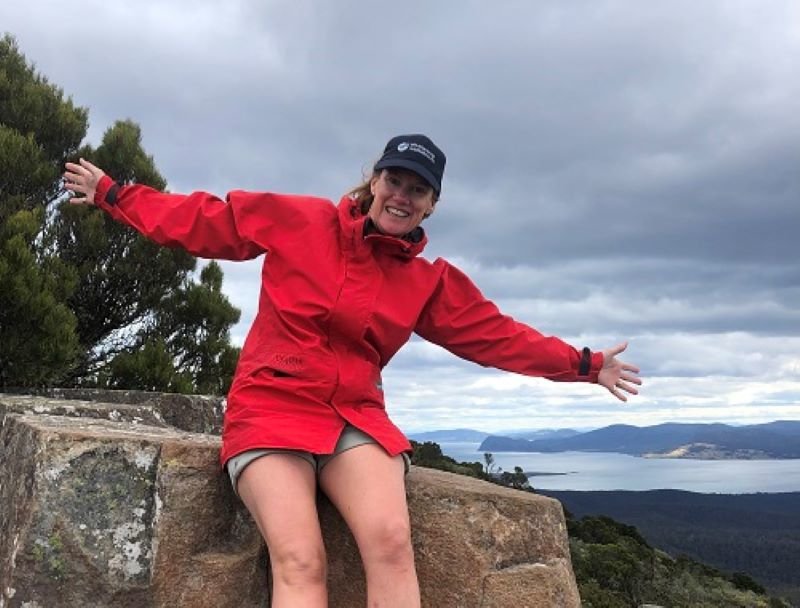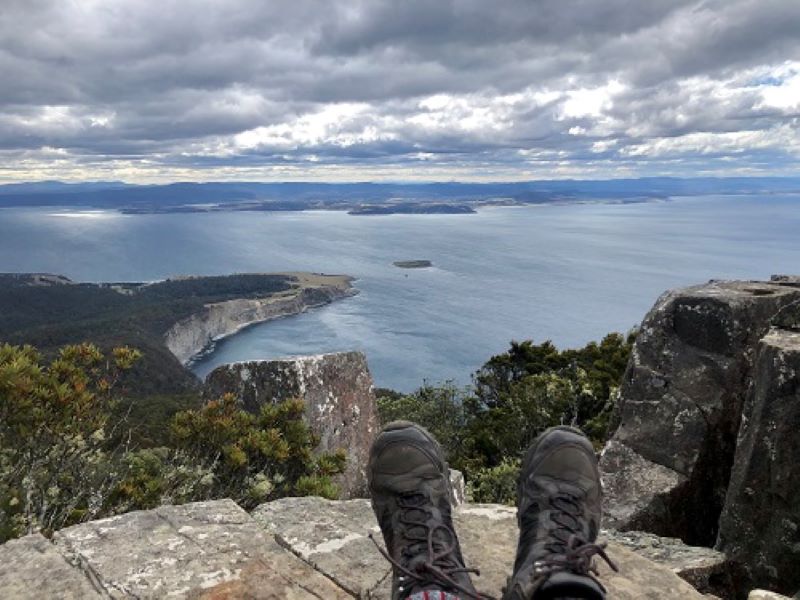 Buoyed by our achievement, we bounded home like mountain goats, and as the sun started to sink lower the local population of Kangaroos, Wallabies and of course yet more Wombats came out to play in ridiculous numbers.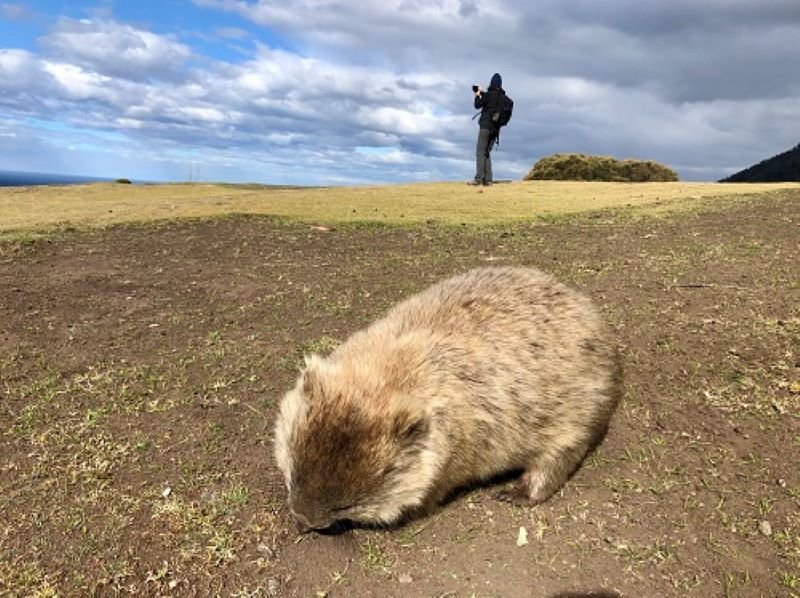 Finally - Face to Face with the Devil
Our final treat on our Maria Island Walk was still to come - and what a treat she had in store! Showered and changed, we gathered on the deck for drinks, followed by an evening of hilarity, tales and wine-fuelled laughter over dinner around the grand old dining table. Eventually we retreated to the sitting room for one last nightcap in front of the roaring fire. By this time, we felt like we had known each other for years, not a mere three days. 
The evening came to an end all too soon.  I had just slipped into bed when I was roused by an excited rap on the door and Maya hissing at me. "Quick Susie, come out, there's a devil!"  I shot out of bed and joined the others in the little garden, where sure enough, a stunner of a Tasmanian devil was busying himself among the boots we had left out to air.  He had given Kate the fright of her life by jumping out of her rucksack! He happily paraded around, twitching nose held aloft, seemingly as fascinated by us as we were by him, giving us plenty of time for photos and videos.  After several minutes he ambled away through the hydrangeas and headed off into the night. What a glorious wildlife finale to a glorious adventure.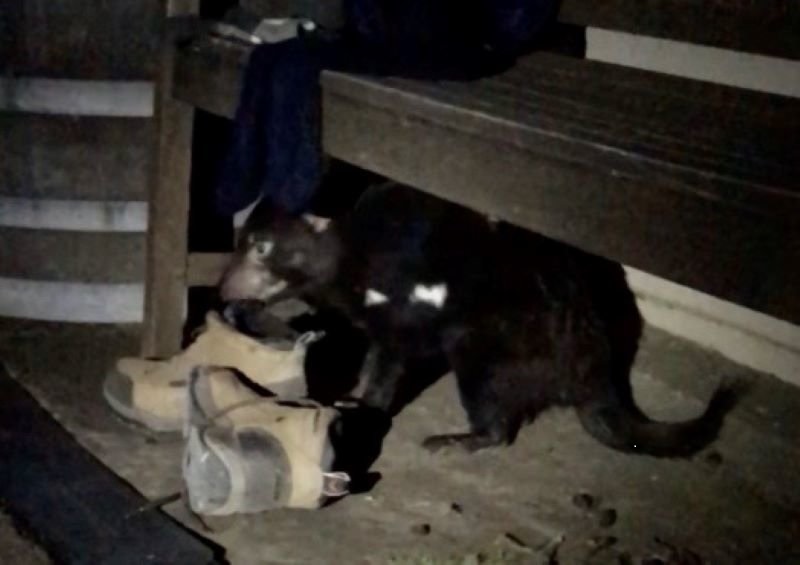 Little was I to know that one of my boots had proved too much of a temptation and the cheeky little Devil had tucked into the sole for dinner – a fact I discovered the next day when I inadvertently stepped in some water and got a very wet foot!
The Darling Roos of Darlington, and Homeward Bound
And so, day four dawned, and with it our last few hours on paradise island. We explored Darlington and learned about its fascinating history as a probation station from 1825 to 1832, and again from 1842 to 1850.  We then decided to head to the Reservoir Circuit Walk, another favourite place for spotting birds, Kangaroos, Pademelons, Wallabies and Wombats.  The Kangaroos were out in force today and happily posed for photographs in the shelter of the cliffs – we counted no fewer than 100 at one point!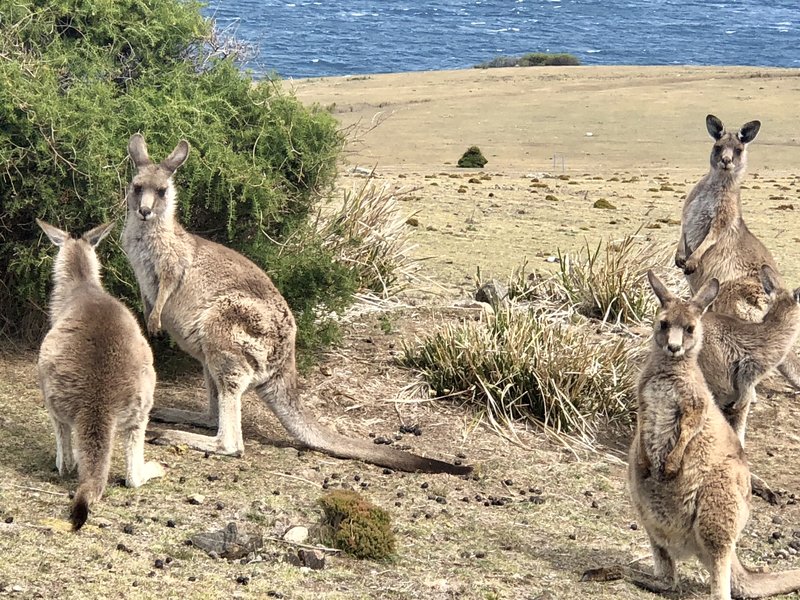 Our time on Maria Island came to a close with a lovely Champagne picnic in the heart of the World Heritage listed buildings before we boarded our boat for our return trip across the sparkling waters to Tasmania's mainland, from where the mini-bus would take us Hobart-bound.
It is a rule of bush walking in Tasmania that you should leave nothing behind but your footprint. Well, every time I visit Maria Island, I'm afraid I leave a little bit of my heart behind too, and this time was no exception. Goodbye Maria, you can keep it safe for me until I return, and in the meantime, I shall cherish my memories of four of the most remarkable days of my life.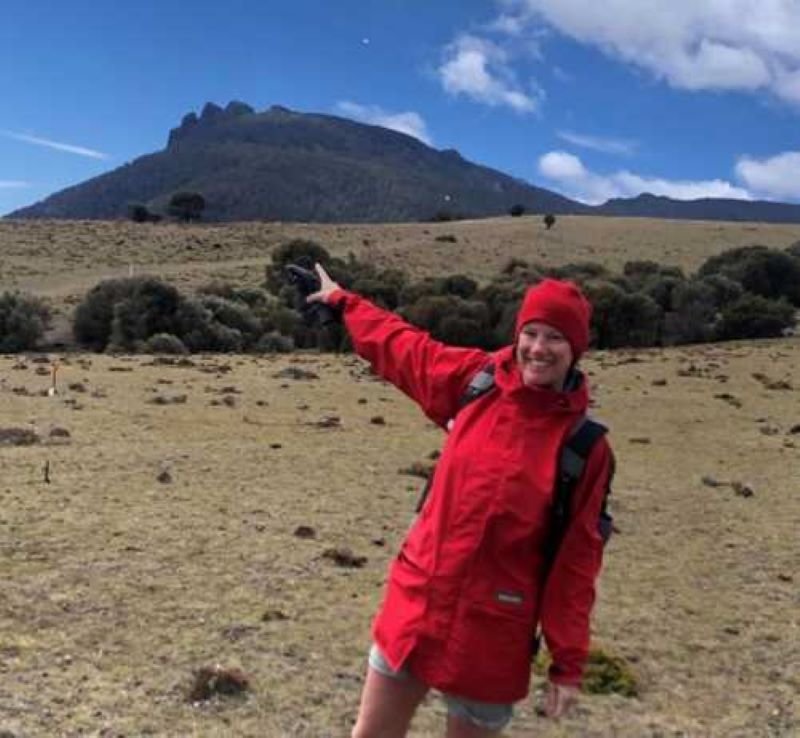 About the Author: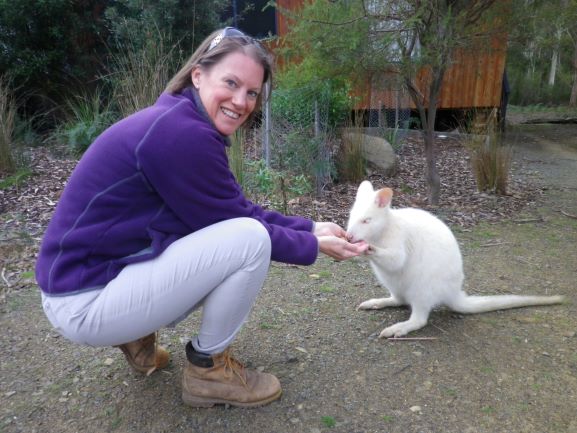 This blog was written by Susie de Carteret, owner of Tasmanian Odyssey, the world's only dedicated Tasmanian travel company.  We have over 22 years of in-depth knowledge and passion about Tasmania and we create life-changing self drive and touring packages for our guests who travel from all over the world.  For further information on any of the walks and tours in Tasmania, bookings and general advice or assistance please contact Susie here 
.