The first time I clapped eyes on Tasmania's remote North Eastern stretch of coastline known as The Bay of Fires was way back in 2000 - some nine years before it would be declared the hottest travel destination in the world by Lonely Planet.  Along with a handful of fellow walkers I had puffed my way to the top of a towering dune to find myself atop a mountain slope. As I squinted in the sunshine my jaw dropped as I gaped agog at the view across blinding virgin white snow fields, glistening brightly in the midday sun and stretching as far as the eye could see. 
Except this was no mountain slope and these were no snow fields, but rather mile after mile of the most magnificent, flawless, squeaky soft white sand beaches I had ever seen.  To be precise, I was looking at a 35 mile swathe of wild picture-postcard bays carved up by huge, vivid orange granite rocks, all lapped by the turquoise Tasman Sea. "Wow" didn't do it justice - and I suspect my choice of vocab back then was probably considerably more colourful.  Nothing, not even a prior trip to Whitsunday Island on the Great Barrier Reef, could have prepared me for this.
I was one of a very few visitors to the region and lucky enough to be on one of the first guided four day walks through the Bay of Fires (now run by the Tasmanian Walking Company). 
We slept one night under canvas - 'glamping' as it would become known - and two nights in the uber-minimalist designer Bay of Fires Lodge perched high above the surf - Tassie's first sashay into upscale eco-tourism. 

My guides were none other than the walk's owner, Tasmania's sublimely gifted wilderness architect, Ken Latona, and legendary head of Parks & Wildlife Nick Mooney. Together they dived for oysters and abalone while we swam and kayaked at Eddystone Point. Later we feasted on their bounty while the sun set over the deck high above the mesmerising seascape. As night fell the Milky Way emerged as clear as the day. This experience alone was to set the seal on my burgeoning love affair with Tassie.
Fast forward 18 years and I am driving through the remote Blue Tier, north east of Launceston, heading for the Bay of Fires once more. My friend and long-standing colleague Coreena from Shutterbug Walkabouts is behind the wheel negotiating the hairpin bends while I'm peering into the vast forested valleys - deep in here somewhere lies the Blue Tier Giant, Australia's widest tree with a girth in excess of 19 metres.
The two and a half hour drive through this little visited region takes in an exposed sub-alpine plateau 600 metres above sea level and less than a handful of tiny picturesque settlements, including Derby and Weldborough. We weave in and out of sporadic mobile phone reception. We must have just reconnected with the planet for a couple of minutes as one of our phones springs into life, breaking my reverie from the spellbinding views.
"Hi Guys, it's Anna from Bay of Fires Bush Retreat here. I'm just calling to check your arrival time and to take your orders for Chef's Dinner tonight".
I have to confess to feeling ridiculously excited.  Bay of Fires Bush Retreat near St Helens is Tassie's newest glamping experience and one that I have been itching to try - indeed it is one of my primary reasons for making the 11,000 mile journey on this occasion.
It takes us an hour or so to finish our drive via the usual sort of traffic jam, Tassie-style!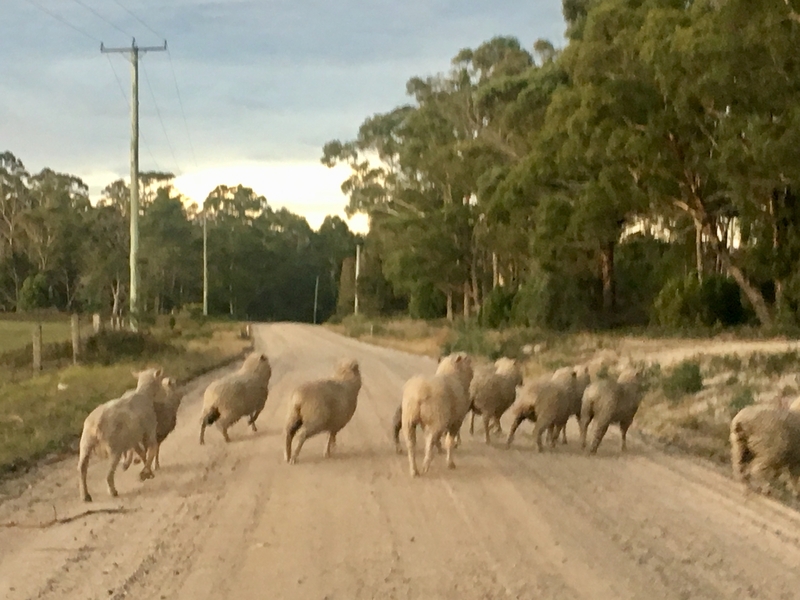 As we crunch into the entrance on an inauspicious gravel road and come to a halt in front of the Bay of Fires Bush Retreat sign, the giant cerulean sky is starting to take on a pale pink hue. It is late May so we are on the cusp of the Tasmanian winter. Days are short but in this part of Tassie warm balmy days are possible at any time of year - and this week is no exception.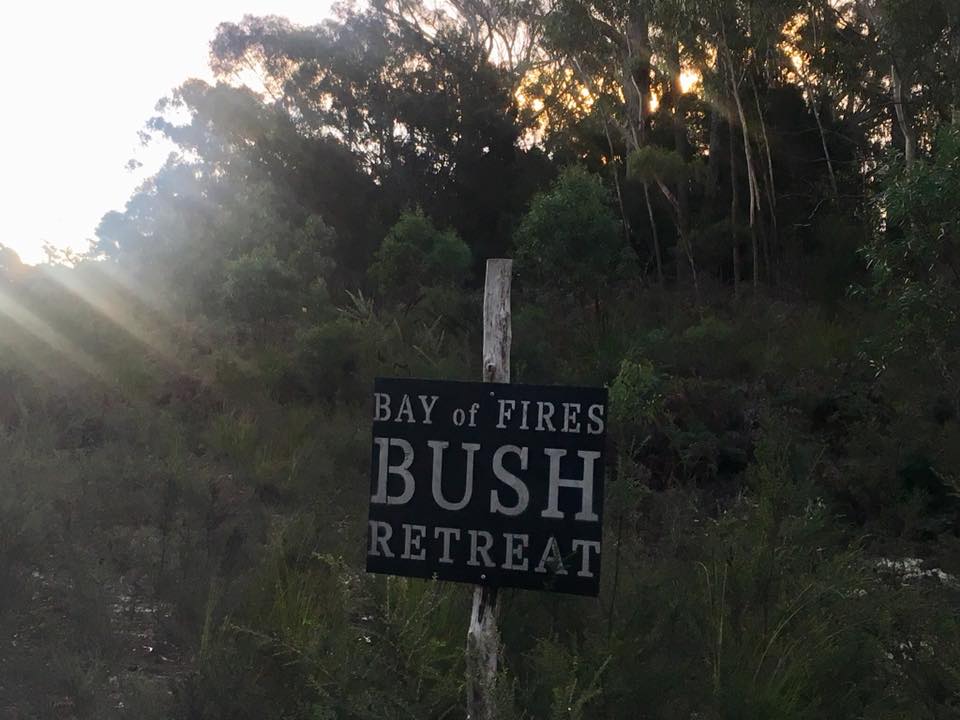 The setting is indeed a true 'bush retreat' - an idyllic camp set on the edge of a Eucalypt Forest.  Although you can't see the coast, the famed beaches and Mt William National Park are just minutes away. 
We are welcomed cheerfully by Anna, who along with her partner and chef of some repute, Tom Dicker, has set up Bay of Fires Bush Retreat. Previously Tom ran one of the State's most acclaimed restaurants, Angasi, in nearby Binalong Bay. Tom looks more like he should be riding the notorious Tassie surf on his board (and probably does) but believe me (and if you don't, read the reviews) this dude can seriously cook.  Judging by the impressive set up here, I can see he's got an equally astute eye for design too.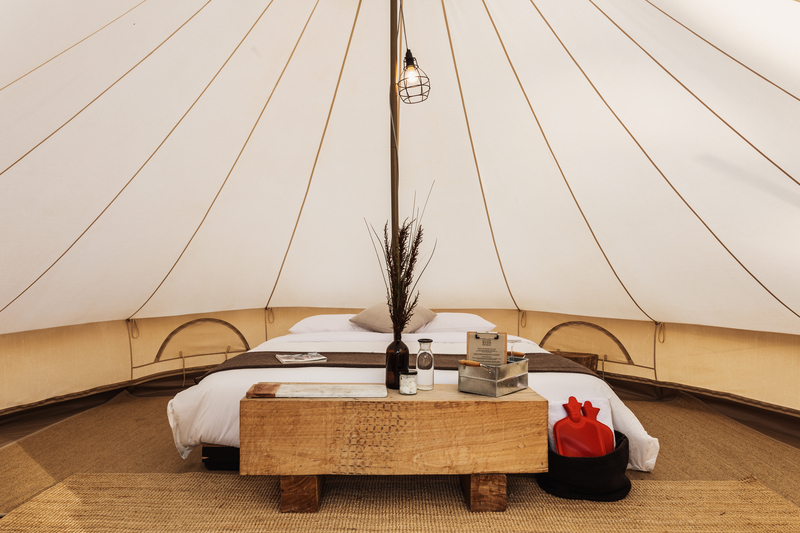 Anna shows us to our King Bell Tents which are dotted around the camp with the forest as a backdrop. I am struck that this really is eco-Glamping with a capital G.  Although no stranger to camping all over the wilds of Tassie, with every year that passes I find myself missing my creature comforts a little more.  No worries here! Lots of headroom, huge beds, soft pillows and duvets, fluffy towels, crystal water glasses, heaters and hot water bottles for cool nights. Not to mention the view!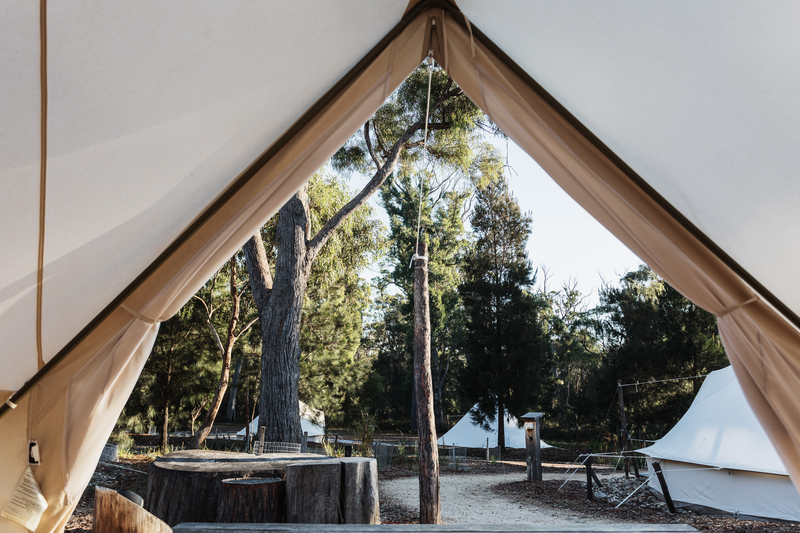 The only sign of nature knocking on the door is the discreet dustpan and brush strategically placed in the corner with which to gently remove uninvited guests (for the record, neither Coreena nor I had any).  I have been allocated 'Dora' which makes me smile as it reminds me of my cheeky African Grey Parrot back at home, who right now will still be snoring happily in the kitchen.
Anna gives us a tour of the Bathroom Block. Spacious, light, modern and spotlessly clean with plenty of privacy, it's positioned far enough from the tents but within easy reach in a nocturnal call of nature.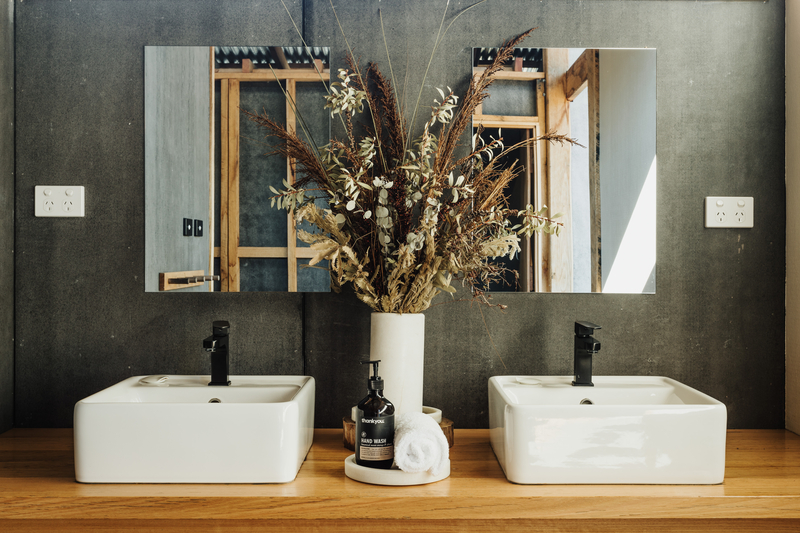 Next, and more importantly to my mind, we tour the Bush Dining Room and Kitchen.  This is a great facility as it gives guests the option to dine together on Tom's gourmet cooking for both dinner and breakfast, but also the chance for others to cook and eat independently - ideal for those on a budget, simple eaters or travelling with youngsters.  The sides open for al fresco dining on a warm night like tonight, but it also gives complete protection from more inclement weather.  There is a well-stocked - and crucially well-priced - honesty bar. Guests are also welcome to BYO - as we have done.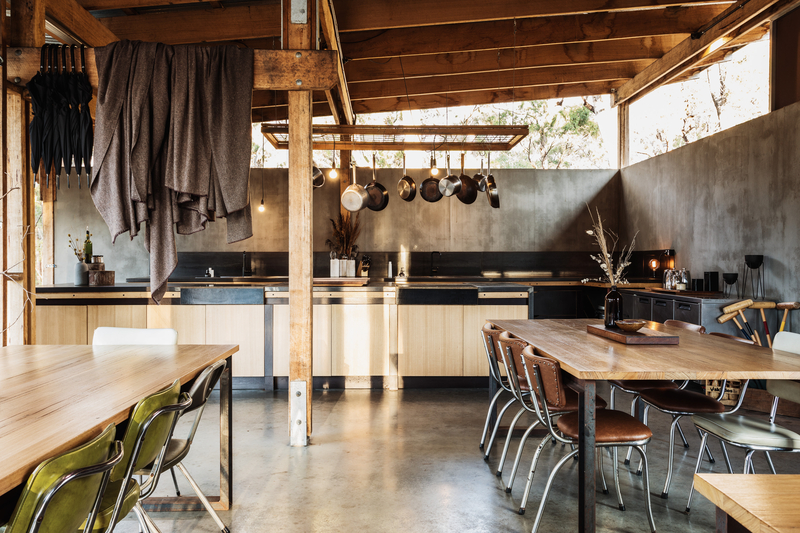 By this time the sky has exploded into a blazing display of colour - molten gold, flame red and inky purple. Sunset here is truly something to behold.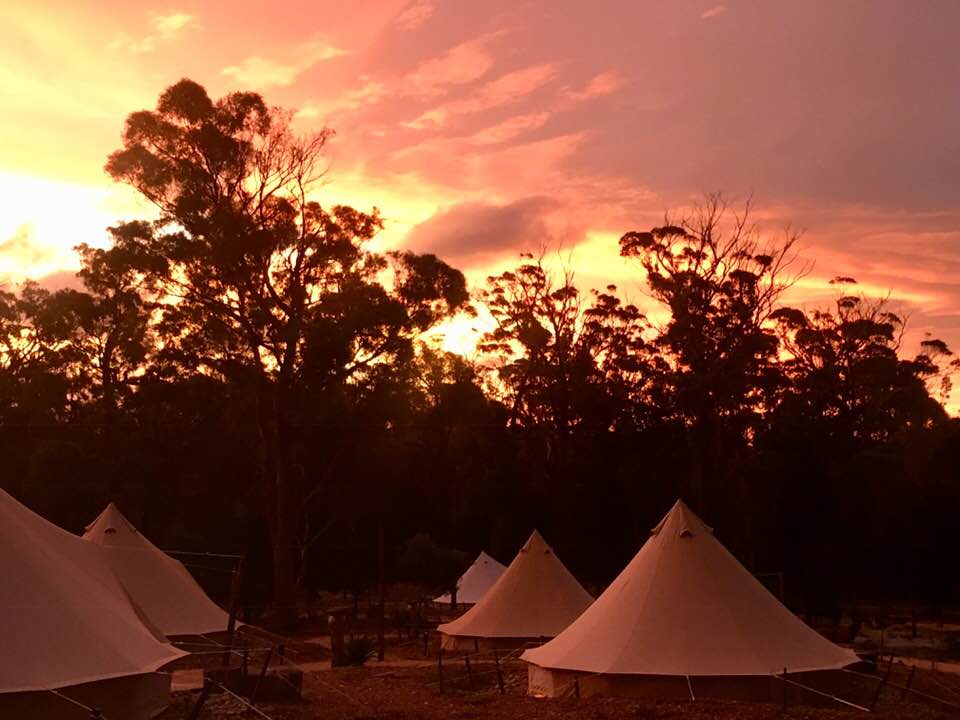 Coreena's eyes light up at the fire pits dotted around the camp and stacked with logs for guests' use.  Coreena is one of Tassie's top private guides - a true Girl Friday - and I can see she is burning to get a fire going.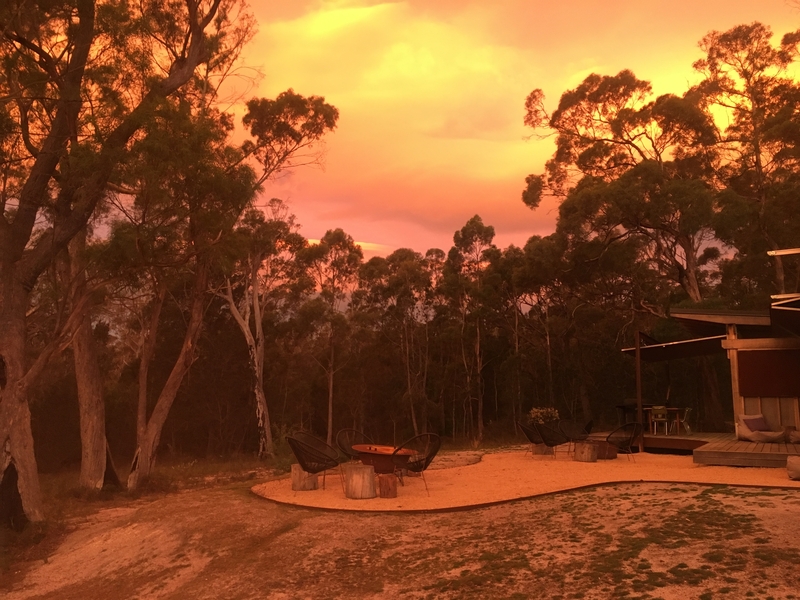 My desire for a Sun Downer is equally pressing so with no further delay we head back to our tents to grab a bottle of wine. We settle ourselves at the long timber dining table and quickly engage in chit chat with our fellow glampers.  It rapidly becomes very jolly!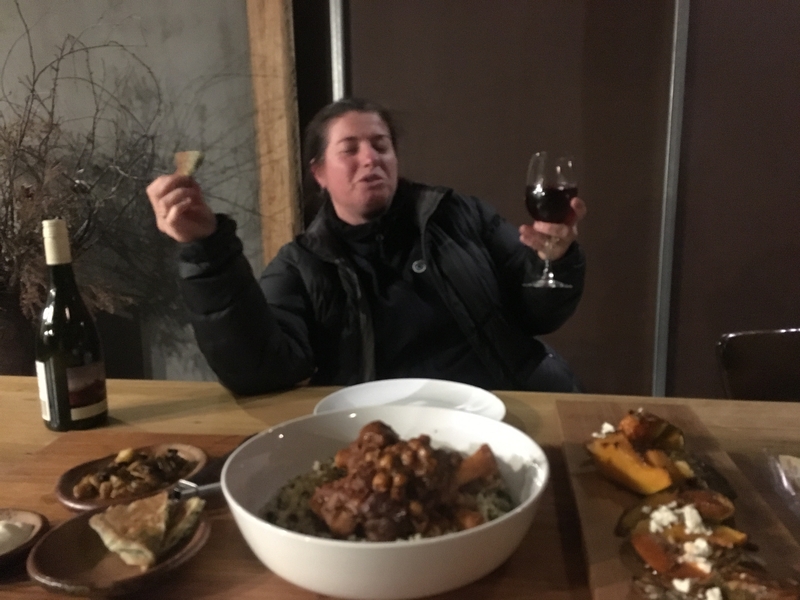 And goodness, what a feast follows!  We congratulate ourselves at opting for Chef's Dinner and tuck in with gusto. A delicious platter of Tasmanian style meze is followed by melt in the mouth lamb shank rounded off by pud.  This is no ordinary cooking let alone campfire cooking! 
Replete from dinner, a group of us heads to the nearest fire pit and soon flames are lighting up the inky black, unpolluted star-filled sky while we crack open another bottle (or two) and get to know our merry little posse.  Despite our diverse backgrounds - a young Anglo-Aussie couple from Hobart on their first Tinder date, a delightful couple from Sydney, me from Jersey and Coreena, we all get on famously.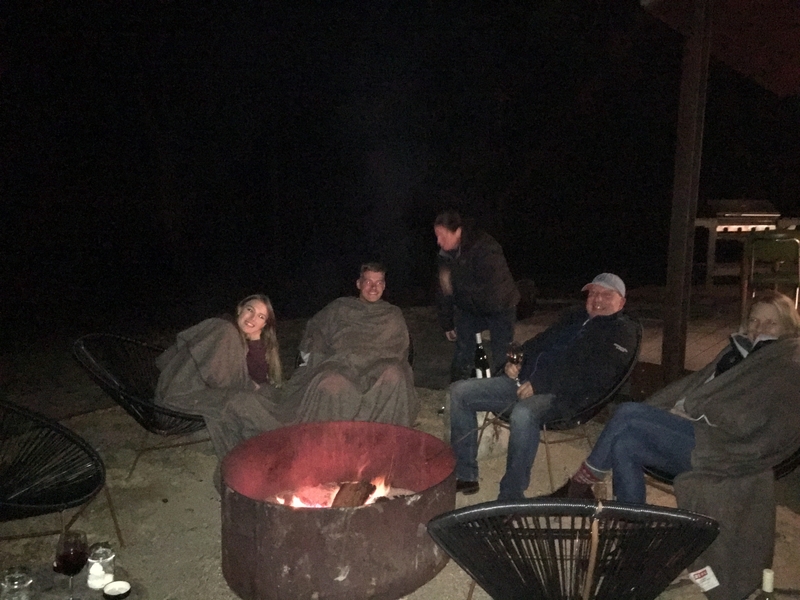 The booze flows as we try to stifle our laughter out of consideration for other glampers.  As night cools we rug up and take turns to work our way through our supplies until they run dry, so we hit the Honesty Bar.  A beady eyed owl watches over us, swooping down every few minutes to snaffle an unsuspecting moth drawn by the firelight.
Unsurprisingly I cannot recall what time we wobble to our tents, which are as warm as toast thanks to the heaters, but I wake at sunrise feeling remarkably refreshed and clear-headed. For the umpteenth time I swear that Tasmanian wine is  as pure as the water that swells the grapes - hangovers don't seem to happen here - or perhaps the Tassie air counters the effect of the booze (the cleanest air in the inhabited world is regularly recorded in Tassie's NW corner).
I head to the Bathroom Block for a hot shower - no sign of activity from other glampers yet - before embarking on an early morning bush-walk around the forest spotting native birdlife. 
Appetite suitably stimulated, I join Coreena for Tom's cooked breakfast. We happily chomp our way through another three courses of delicious gourmand creations like no other breakfast I have ever eaten, even in the finest of five star hotels.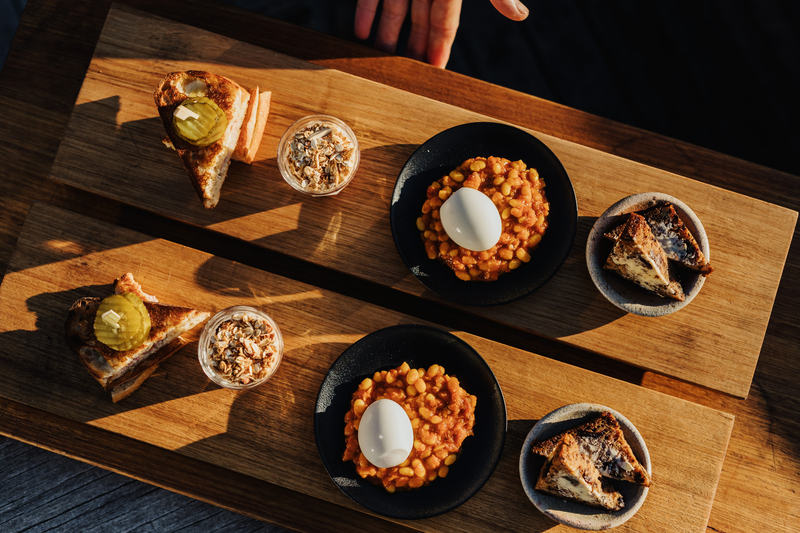 As usual I am on a punishing schedule so we bid a reluctant farewell to Tom and Anna. We make the ten minute drive towards the pretty little settlement of Binalong Bay and onward to The Gardens and a little spot called Cosy Corner.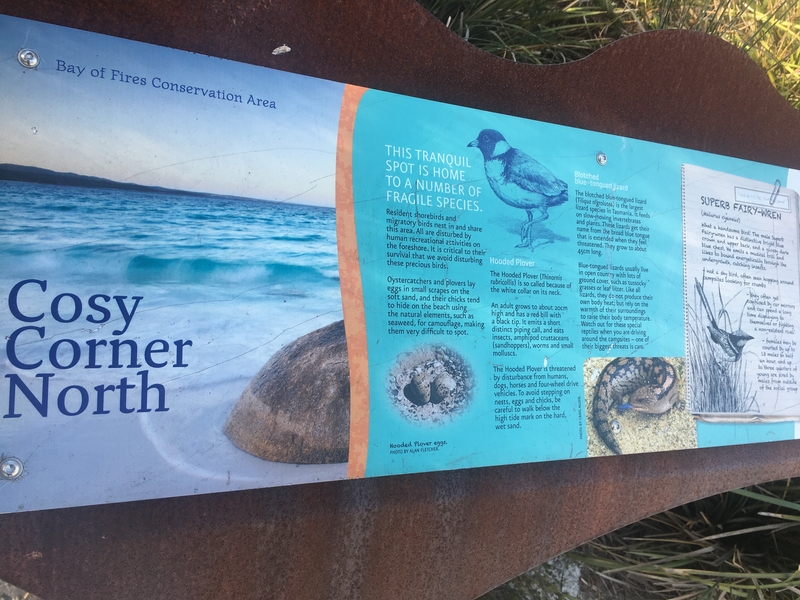 Cosy Corner is a great bay from which to enjoy one of the many short beach walks as well as the local birdlife. It is still only 1030 on this late Autumn day but the sun is already beating down and there isn't a cloud in the sky.  Stripping down to t-shirts, we rue our decision to leave swimmers at home. 
We splash through the surf among the Hooded Plovers, clamber over the huge orange granite rocks, and gaze in wonder at the piles of ancient Aboriginal middens (remains of shellfish feasts) which remind me that the Bay of Fires was so-named by the early settlers who spotted the Aborigine's fires burning on the shores as they sailed past.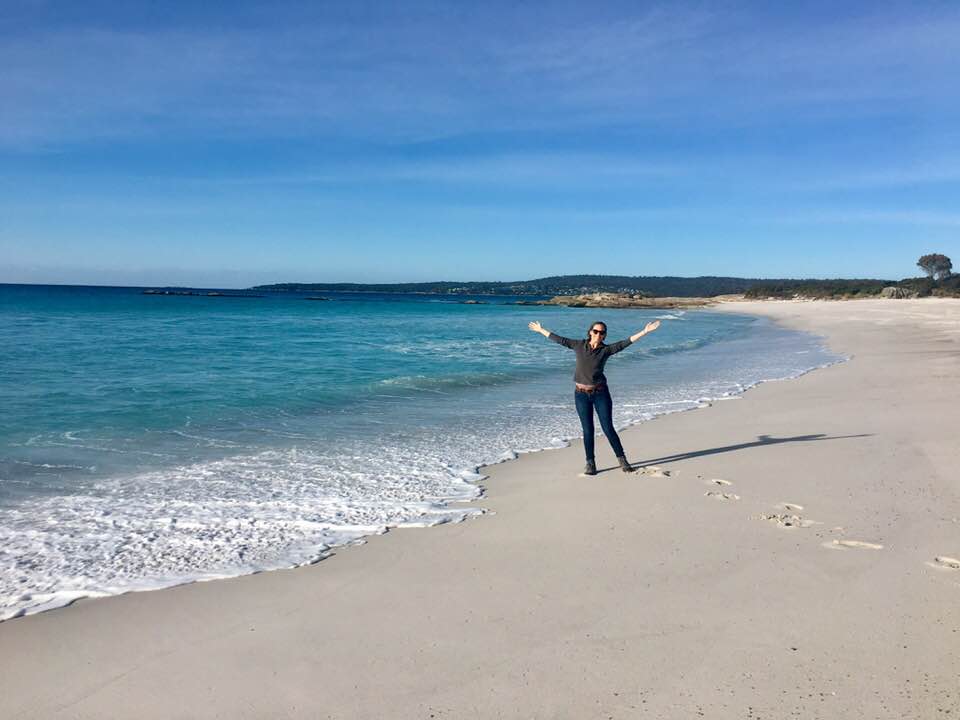 We take photo after photo, including the obligatory selfies, none of which will ever tell the true tale of this spiritual place, and marvel at the beaches which despite their beauty are devoid of anyone other than a lone fisherman we spot in the far distance.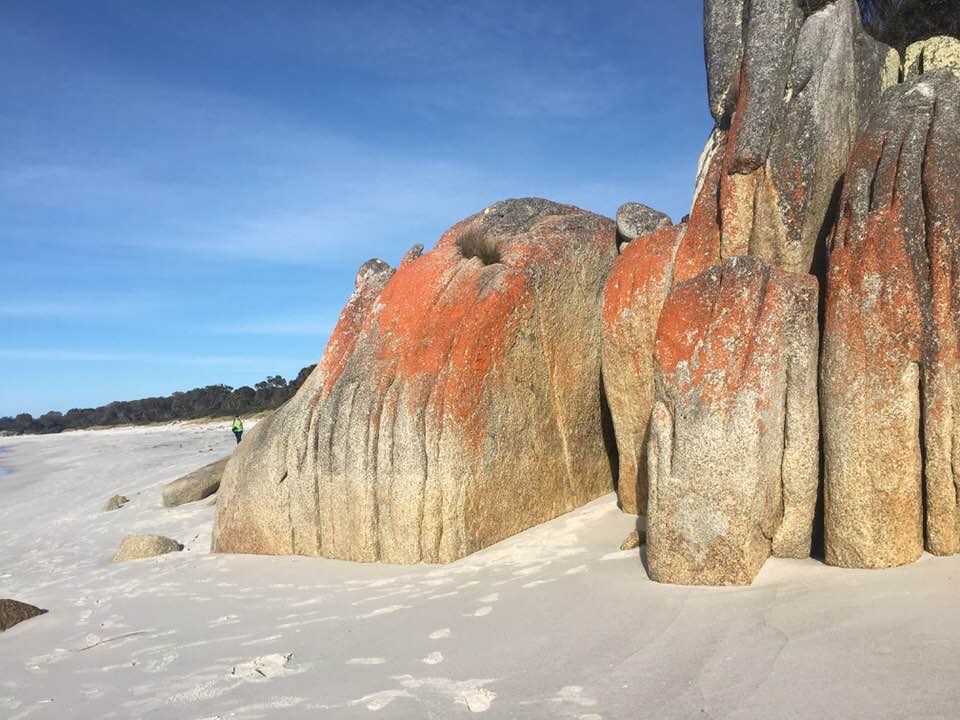 Leaving a trail of Robinson Crusoe footsteps behind us, we wistfully drag ourselves back to our car in preparation for the long drive south.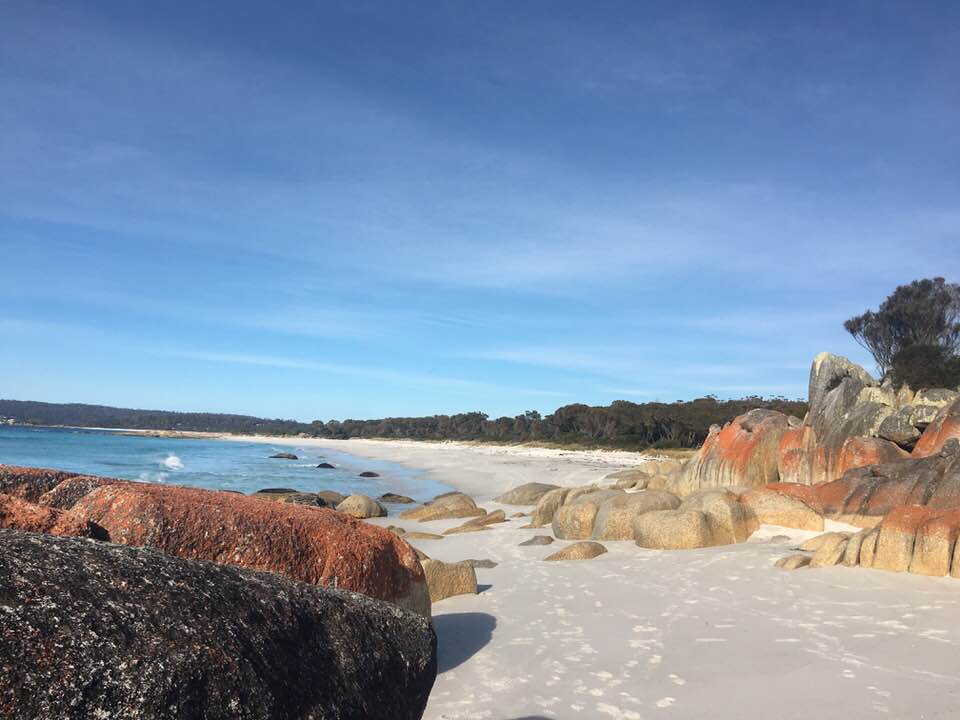 Despite Lonely Planet's perhaps misguided and undoubtedly controversial declaration of the Bay of Fires as one of the hottest travel destinations on Earth, I can vouch for the fact that fortunately some 12 years later this awe-inspiring part of the world remains as unspoiled as it was back then, with less than a smattering of charming and unpretentious places in which to stay, of which to my mind Bay of Fires Bush Retreat tops the bill. 
Long may it stay that way, but I, for one, can put my hand on my heart and say that for me this is undoubtedly one of the Most Perfect Places on Earth.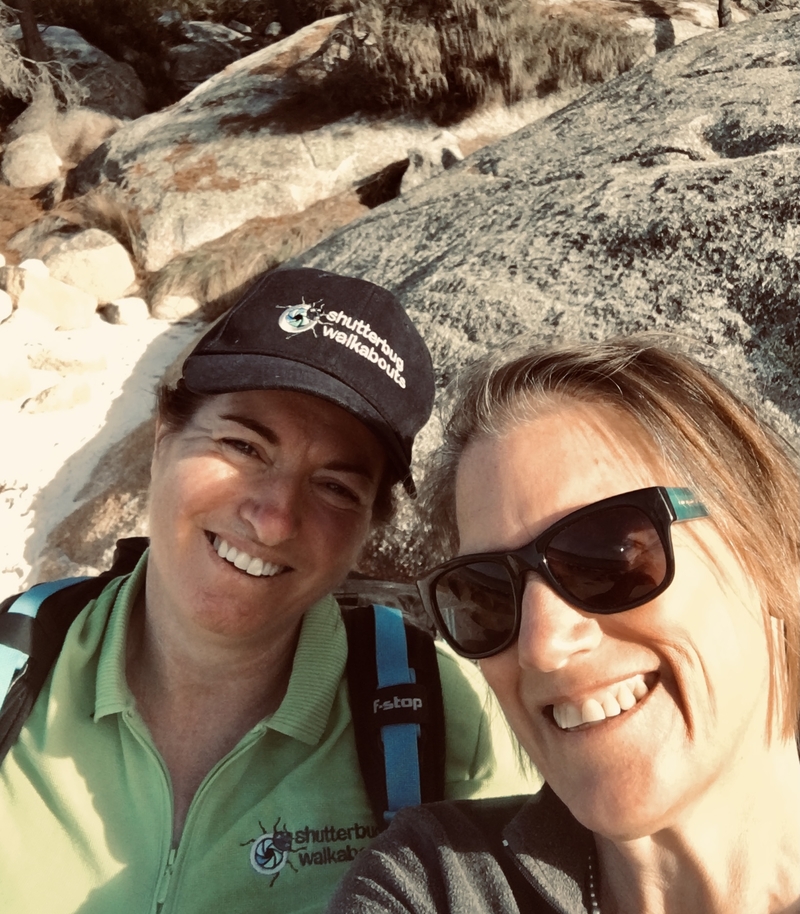 About the Author: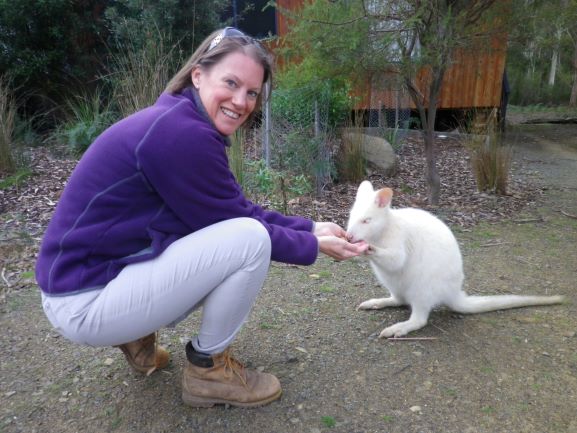 This blog was written by Susie de Carteret, owner of Tasmanian Odyssey, the world's only dedicated Tasmanian travel company.  We have over 22 years of in-depth knowledge and passion about Tasmania and we create life-changing self drive and touring packages for our guests who travel from all over the world.  For further information on any of the walks and tours in Tasmania, bookings and general advice or assistance please contact Susie here