If walking and wildlife are high on your list of interests, don't miss Maria Island off your list of places to visit in Tasmania. A Noah's Ark for endangered birds and animals is the best way of describing this uninhabited island paradise, which lies 30 minutes by boat off the east coast, about an hour's drive from Hobart.   
A must-visit for naturalists, Maria (pronounced Mar-I-a), like Bruny Island, has all 12 endemic birds, along with abundant and for the most part habituated wildlife including forester kangaroos, wallabies, wombats and a thriving population of Tasmanian devils.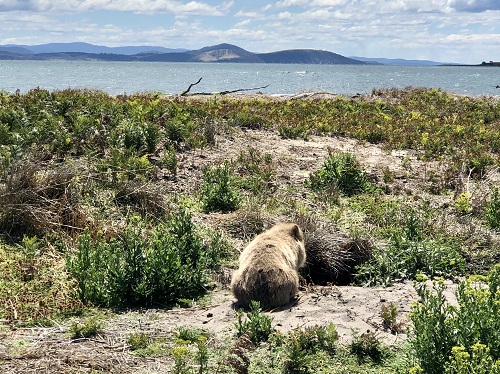 Maria Island can be explored on foot and by bike although, with no shops, hotels, B&Bs or cafes, day-visitors who arrive and depart on the daily ferry also need to come prepared with picnic lunches and all-weather clothing.
It is also to join a wonderful small group guided family-run cruise which gives a memorable experience of the 300 million-year-old cliffs, rainbow-hued fossil caves and marine life, as well as a two hour guided walk on the island to spot kangaroos and wombats. This can also be taken as a day trip from Hobart.
Those with the urge to dust off their walking boots, say goodbye to other tourists entirely and get back to nature, albeit without compromising creature comforts, can step off the world for a few nights with a superb four-day guided walk.  Read all about The Maria Island Walk in my blog, here 
As well as being a wildlife wonderland, Maria Island also has a history by the bucket-load. It has a penal settlement that predates Port Arthur – Darlington – that was to close as early as 1850 – possibly it was just too beautiful to be a successful convict site – and is now a World Heritage Site. It also has a remarkable Aboriginal history, having been home to the Tyreddeme band of the Oyster Bay tribe of Aborigines, who would be encountered by the early French explorer, Nicholas Baudin.
Prior to the 21st Century, the last person to try and turn Maria Island into a commercial success was Italian count, Diego Bernacchi, back in the early 1900s. Bernacchi had his sights set on creating the Australian Riviera with silk mills and tourism development, a plan that after a period of glory days was soon to go belly-up, after which nature was allowed to run its course until the island was declared a national park in 1971, with the successful introduction of Tasmanian devils in 2015.