The island has all the ingredients for an unforgettable and unique experience under pedal power, either as a dedicated cycling holiday in its own right, as part of a self-drive holiday, added on to a multi-day walk, or perhaps an adventure combining all the above.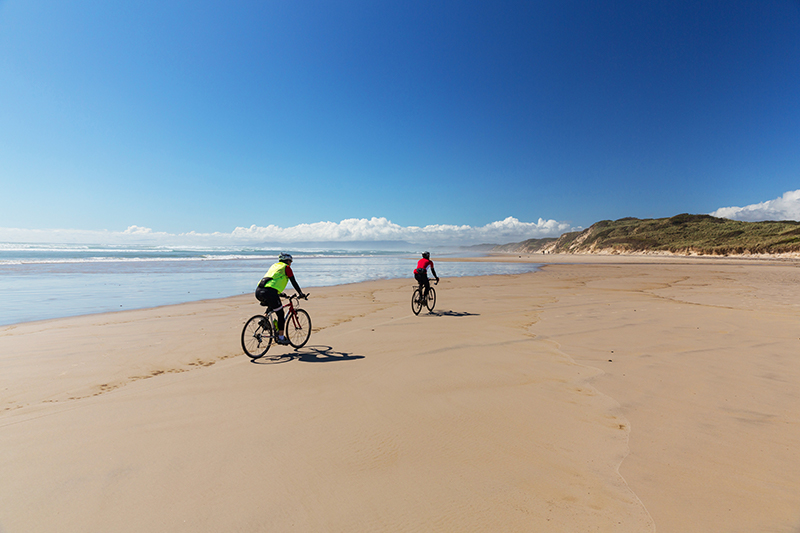 The scenery changes with every twist and turn of the road, exotic wildlife and birds everywhere you look, delicious food and wine and of course the cleanest air in the world is a heady combination for a cycling holiday. 
Although the island is small in comparison to the mainland, it has a huge diversity of terrain, much of which can be experienced in less than a week.
Make no mistake, this is not a cycling destination for the faint-hearted.  The sunny and dry East Coast, which is where the vast majority of cyclists will head, may be referred to as "flat" by the locals, but that is only in comparison to the mountainous Central Highlands and the majestic Western Wilderness.  In fact, it gently undulates with long stretches that can only be described as a joy and a pleasure to cycle along, with endless white sandy beaches lapped by turquoise waters, and a backdrop of mountains wherever you look - interspersed with a few hilly stretches that will challenge even the fittest of rider!   The North-East corner is a great option to add in a couple of days of even more demanding riding that takes you right off the beaten track into Tasmania's hidden corners and pockets of rainforest.
The West Coast and World Heritage Area is a wholly different matter again. It is only really recommended for experienced and fit cyclists, but those who like a challenge will just love it. There is a good reason why it has been ranked as one of the world's top cycling destinations.