If you've never glamped before, Tassie is the place to try it. The ultimate Australian safari experience should be on everyone's itinerary, even if just for one night. A word of warning though - it's addictive. Spend one night in the Tasmanian bush, and you will be hankering for more.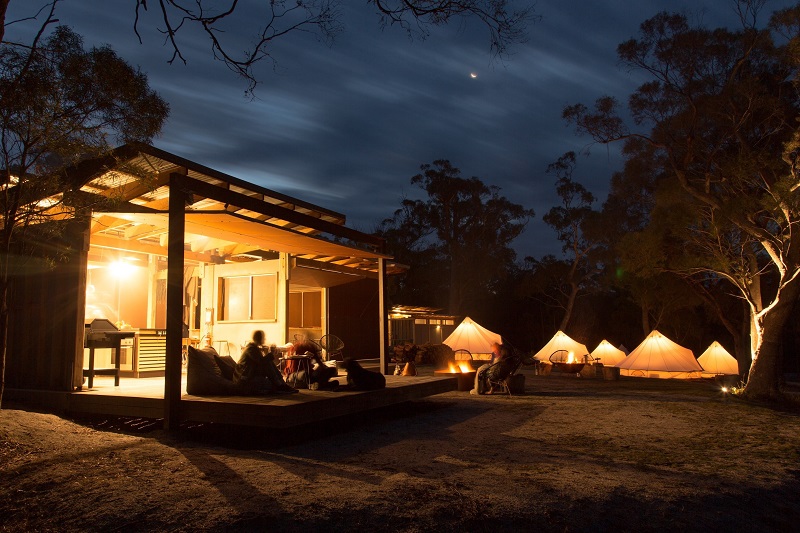 Add a night or two of glamping into your itinerary and you can expect warm, spacious bell tents retreats for two furnished with soft beds, plump pillows, fluffy duvets, cashmere blankets and hot water bottles for cooler evenings. It promises long balmy evenings under the stars dining on delicious local produce prepared by a skilled chef, washed down with fabulous wines. After dinner, join your fellow glampers around the campfire, listening to tales of the bush and sharing stories with easily-made friends while soaking up the sounds of the forest and keeping an eagle eye out for the rustle of ever-present birds and wildlife.
There are several 'bush retreats' dotted around Tasmania that will bring a completely new dimension to a self-drive holiday staying in B&Bs and lodges. Swap bricks and mortar for a night or two under canvas and we promise you won't regret it. 
And for those who need no convincing of the merits of glamping, at least one of Tasmania's award-winning multi-day walks are an essential addition to any Tasmanian Odyssey. Perfectly suitable for anyone of any age with a moderate level of fitness, one of these guided walks is your passport to the great escape - think of it as taking a raincheck on life-as-you-know-it for a few days.  After four days on uninhabited Maria Island, even coming back to mainland Tasmania feels like a return to the metropolis!