Words by Founder Susie de Carteret
I created my travel company, Tasmanian Odyssey, in 2013 but my love affair with Tasmania over 20 years ago when I was given the responsibility of promoting Australia's only island state to the British visitor.
My love affair with Tasmania started one typically (as I was to discover) brilliant, blindingly blue–sky August day in 1998.
I left London on the first really good day of the inevitably disappointing UK summer for the darkest of winter months on the other side of the world.
I was already a well-travelled travel professional having been lucky enough to spend most of my twenties experiencing far-flung horizons all in the name of work, and Tasmania was to be the latest addition to my bucket list; however despite my burning curiosity for what lay ahead, I have to confess to a certain amount of trepidation about exploring this little known land. 
Jumping ahead to the present day, over two decades and innumerable trips later, Tassie continues to enchant and enthrall me as much as it did in the early days, and nothing gives me greater pleasure than giving others the chance to find out why.
Back then however, as my Qantas plane from Melbourne (for no low-cost airlines would cross the Bass Strait for some years to come) made its bumpy descent through brilliant blue skies over dark forested mountain ranges, sparkling rivers and lakes, enormous rich pastures and endless white beaches washed with turquoise seas, I felt the first stirrings of what would become a lifelong passion. 
The truck that brought my bags out in the morning sunshine (no baggage carousel for sleepy little Hobart) was a nod to the fact that this largely forgotten and misrepresented island on the bottom edge of the Southern Hemisphere had yet to see any tourism of note. That was my job; this was why I had been brought here. My first meeting was less than half an hour later. No pressure then! My stirrings of excitement were tempered by jet-lagged apprehension.
That first blue-sky day was no fickle friend of welcome. The cold Tasmanian winter I had anticipated turned into day after day of glorious, clear azure skies; cool mornings with a sun that quickly made its presence felt. A few days later, I was thrilled by fast-falling thick snow that caused roads to be closed behind me as I left Hobart and its backdrop of Mount Wellington behind, climbing rapidly in my hired car to explore the Highlands and lakes. Onwards I drove into the ancient, other-worldly glacial landscape of the Lake St Clair-Cradle Mountain National Park and the snow-capped ranges beyond to the wild west coast wilderness that had made its furious mark on the world some 15 years prior during the Franklin River Dam Protest.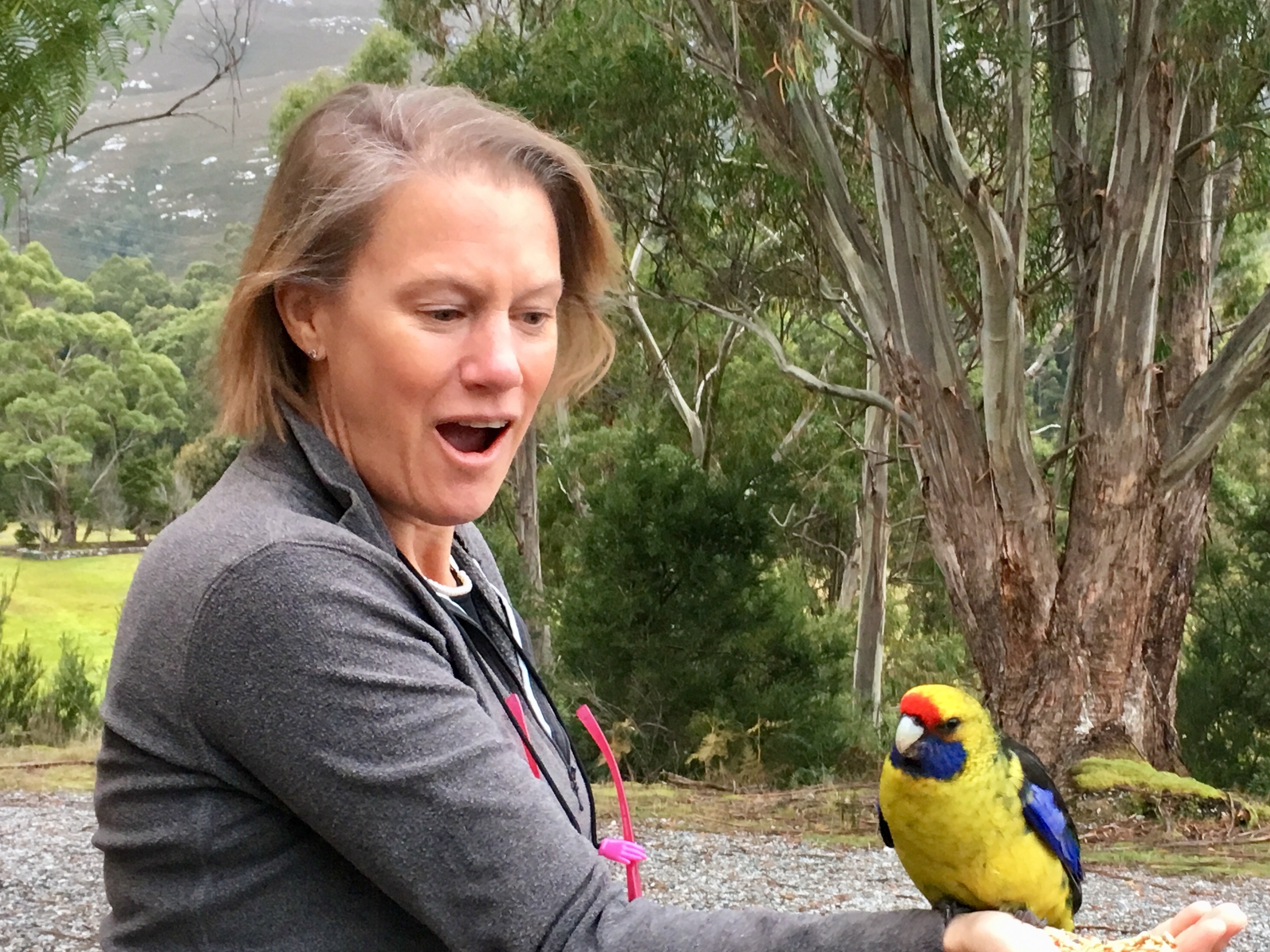 Marsupial-filled dusks turned into inky black billion-star-studded skies, the cleanest air in the world pungently scented by welcome wood-smoke from the log fires that warmed my cabins along with the carafe of Tasmanian port or bottle of pinot noir which invariably greeted me along with a cheery and absolutely genuine G'day from my host.  
I woke to misty mornings with deep valleys swathed in low lying blankets of mist, punctuated by mountain summits; fast rushing waterfalls falling into gigantic tannin-stained rivers of pure water that flowed over granite rocks through densely forested gorges; and hundreds of huge deep, shimmering lakes filled with brown trout and plump platypus.
I travelled along miles of bone-shuddering unsealed tracks, neck craned upwards towards eagles soaring overhead. From mid-afternoon onwards, I looked down to spot the countless 'hoppy things' – wallabies and pademelons – and the comical, ambling wombat and spikey prehistoric echidna. They foraged by the side of the road, fortunately mostly devoid of vehicles. And of course, I had my first noisy and unforgettable encounter with the king of the forest, the Tasmanian devil, whose once-persecuted population had reached a glorious, defiant all-time high. Sadly unbeknown to most, its desperately bleak future had already made itself known to the one or two horrified and wholly-unprepared wildlife experts who had spotted something unforeseen, alien and deeply grotesque - the horrible Facial Tumour Disease.
I even kept my eyes peeled for a Tasmanian Tiger which I understood to be presumed extinct but which I now know almost without question still roamed the island's wilderness in the nineties, and possibly still does today.
Tassie had, even in those days, a deeply-ingrained inner knowledge of its heart-stopping beauty – God's own country, as it was described to me so aptly on more than one occasion. But this was an island that had been badly hurt in more ways than one.  It felt deeply unloved and isolated from its mainland, and was endearingly unsure of how it appeared to the rest of the outside world. Its nation of just over 400,000 were used to being the butt of the jokes by those bawdy mainlanders who had precious little inkling of the paradise on their doorstep. 
So began my passion for Tasmania.  Over the course of the next 15 years, I would find myself at the forefront of a transformational period in Tasmania's evolution - if not revolution.  A brilliant politician, Jim Bacon, became Premier of Tasmania - and became the first to make Tourism his portfolio, and personally took his warm and inspiring message of welcome to the outside world. Although he died far too young, his legacy lives on. Some of the world's top architects were to discover their piece of paradise bringing this wilderness island to the world's attention. 
Hobart opened Australia's first art hotel, and the remote Bay of Fires was crowned Lonely Planet's hottest place in the world, despite having no accommodation other than a four-day walk. 
The taboo associated with convict ancestry became a badge of honour. 
Not all was to be good news. The poor Tasmanian devil became increasingly threatened as the race to discover a cure for its ghastly cancer sped up throwing the issue of human development and loss of habitat under the spotlight (fortunately over 45% of the island still remains protected).
Logging became the most despised word in the Tasmanian vocabulary as much of the world woke up to eco-tourism.
Industry stopped demanding woodchip, and the heavy rumble of the incessant logging trucks by and large died out.  Perhaps the most unexpected and shocking gift of all, a Tasmanian with a skill for gambling and a passion for bizarre art opened the world's most talked-about and largest privately-owned museum on the banks of the River Derwent, putting Hobart on the global map. 
Over 22 years and innumerable trips later, Tassie continues to enchant and enthral me as much as it did in the early days, and nothing gives me greater pleasure than giving others the chance to find out why.